For the past few years, Ramadan has been arriving in the peak of Dubai summers. The golden lining, if I may say so, is the influx of seasonal mangoes from the Indian subcontinent. They'll slowly start appearing, tart, green and far from the ripening stage in the early days of May. Towards the end of the month, the color lightens revealing tints of yellow and before you know it the aisles of the supermarket will be hosting Mango 'festivals' where you get to pick and choose from over a dozen varieties that have arrived across the breadth of these countries. Rajapuri, Mallika and Malgova from the southern coastal areas, Alphonso and Kesar from the western parts and Chaunsa and Sindhri from across the border. I gravitate towards Badami and undoubtedly the most popular one, Alphonso.
Interestingly, it was during the Portuguese colonization that grafting of mango trees were introduced to produce varieties like Alphonso. No doubt, it is one of the most prized exports from India when they are in season. I'm still learning how to peel mangoes without disturbing the flesh bursting with sweetness that lies underneath. They're cut, pureed, blended and treated in every other way possible till they slowly start changing colors again and you know this season has come to an end. One of my recipes in time for Eid, is a Mango milk cake and I was wondering how to use them once clouds of whipped cream top a delicate cake drenched in milk flavored with freshly pureed mangoes. When blended it is a bit runny in consistency and I needed something slightly thicker. That's when the idea of Mango Curd came to mind. I did know that I had to keep the technique egg less reminiscing a batch of Lemon curd that never saw the light of the day amidst scrambled bits. Pureed mango is combined with a cornstarch slurry that will help it thicken with a little heat. The addition of tart Lime juice cuts through the sweetness and the addition of butter thats stirred at the end renders a velvety smooth curd.
The best part is there is so much you can do with one little jar. Core cupcakes, pour in some curd and pipe Raspberry buttercream on top. Make thumbprint cookies and spoon some more in the middle right before they're baked. Make blind baked or even chilled tart shills and fill them with more curd. Top your overnight oatmeal that you'd have for Suhoor or slather a little on a slice of warm toast for a quick little indulgence on the morning of Eid. Of course, you can always make this for what I intended originally, a decadent Mango milk cake. Without eggs, they will keep well a little more longer in the refrigerator although I'm pretty certain you won't have trouble finishing a jar of these.
Eggless Mango Curd
Recipe adapted from Versatile Vegetarian Kitchen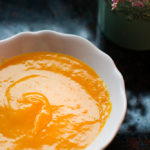 Print Recipe
Fresh Mango Curd
Ingredients
¾

cup

Freshly Pureed mango pulp

5

tsp

Sugar

optional

2

Tbsp

Butter

1

Tbsp

Lime juice

2

Tbsp

Corn Starch

2

Tbsp

Water
Instructions
Add the lemon juice to the mango puree and stir well.

Pour this into a thick bottomed sauce pan.

Whisk the corn starch and water in a glass thoroughly. It should be completely free of lumps.

Add this to the saucepan and stir.

Heat this mixture on a low flame.

Constantly stir the mixture to prevent lumps from forming.

The curd will start getting thicker and creamy.

If you have a candy thermometer, it should read 166-170 degrees Fahrenheit.

Test the curd and check if it is sweet enough. If not, add sugar up to a teaspoon at a time. Stir and taste again before adding more.

Turn the heat to simmer and add butter one tbsp at a time.

Stir the curd gently till all the butter has melted.

Take the sauce pan off heat and pour the curd in to a glass jar or a bowl.

Place cling film directly on the surface to prevent skin from forming.

Refrigerate for at least 1 hour or till set.

Use it within 5 days.
Have a good food day.