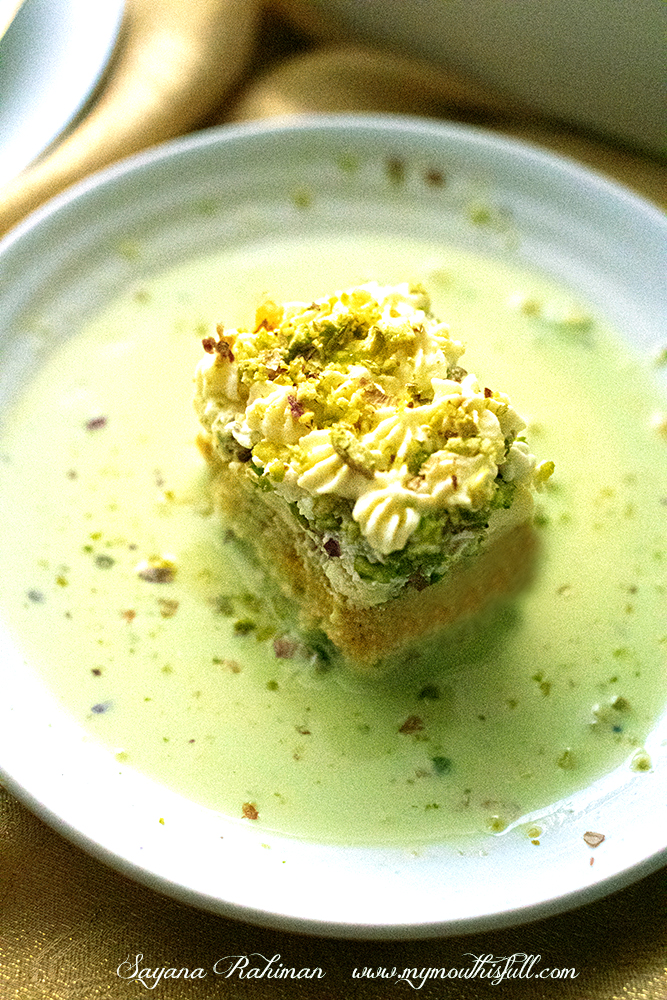 The night before Ramadan began this year, I went out with my friends for dinner. We meet up once a month taking turns to pick our restaurants and last month it was Vietnamese fare. We tucked into roast Chicken with Bao buns, duck breast grilled and dunked in Hoisin sauce and shared an enormous bowl of Pho that my friend insisted we try and still couldn't finish it completely. I really wanted to go all out on dessert and the menu didn't quite impress. We were in Downtown and decided to walk towards Dubai Mall just for dessert. We bounced ideas and settled on the dessert everyone has a version of, the Milk Cake. It was close to 11 pm and the cafe was almost full and we were lucky to snag a corner. Knowing long hours of fasting begin the next day and to satiate sugar cravings that seemed to have risen during the walk, we ordered a Classic Milk cake and a sizzling Brownie accompanied with of scoops Vanilla ice cream drowning in chocolate sauce. Milk cakes have been doing the rounds for quite some time in Dubai, and this was the second one I was trying. While we took turns with our spoons from different sides, I decided that this years' Eid recipe on my blog has to be Milk Cake.
Now this isn't the first time I would be sharing one on my blog. I made and shared the Latin American Tres Leche with a twist of Coconut milk and Mango cream 7 (omg wow!) years ago when it was still unheard of. It was in the early years of my marriage when I've spent many an afternoon watching Food Network. A genoise sponge is baked, poked and prodded at on the surface and made to soak an emulsion of three milks. I added a little tweak of pureed mangoes to the whipped cream. It tasted wonderful but the cream was more soft than stiff peaks and I was not too proud of how it looked. I have gained some baking skills over these years which is why I felt recreating it would be a little easier once I had seen and tasted one from a dessert parlor.
It comes as no surprise that I wanted to try a Pistachio version. Unlike chocolate or fruit-based dessert, where guests like either one or the other, Pistachio is what I fall back on knowing it will please everyone. I made a note to test a recipe and how it's received at one of the Iftars' I would host for family. Truth be told, it's just the right dessert to feed larger groups of people. You can prepare it a day before where it will chill (I just had to) in the refrigerator right until sweetened cream has been whipped and smothered on top to serve. Why I thought of Pistachio is because I had an opened jar of Pistachio Paste waiting to be used in the refrigerator. However, there wasn't enough for a cake for 14 of us. Or maybe it was enough, but I wasn't settling for mild flavors. To compensate, I ground Pistachios not completely sure of how it would be. I couldn't replicate the emerald green color of my fine pistachio paste but it delivered on an almost identical taste. The three milks, so to speak, used are Evaporated Milk, Condensed milk and Whole Milk. The texture of the milk was slightly thicker when I tried it at the restaurant so I decided I would use Half and Half. If you can't find that, you just need to replace half the volume of whole milk with whipping cream. I combined the ground pistachio paste directly into the milk mixture before pouring it over the Genoise.To add a little finesse to the presentation, I piped the whipping cream using a nozzle over the cake and then covered it with Pistachio dust.
When I shared my finished cake, so many of you reached out asking for the recipe. I guess I saved the best for the last. I even went ahead and made a Mango milk cake using freshly pureed mangoes and then topping the whipped cream with a lusciously golden Mango curd. Take your pick. I promise either won't disappoint at your Eid lunch.
Cake recipe barely adapted from Yoga of Cooking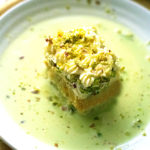 Print Recipe
Pistachio Milk Cake
Ingredients
Genoise Sponge
5

pieces

Eggs

¾

cups

Sugar

1

tsp

Vanilla extract

1

cup

All purpose flour

sifted

1

tsp

Baking powder

1

pinch

Salt

1

cup

Evaporated milk

1

cup

Condensed milk

½

cup

Heavy cream

¾

cup

Full fat milk

150

g

Pistachios
Topping
2

cups

Heavy Cream OR Whipping Cream

3

tbsp

Sugar

Powdered Pistachio

as desired
Instructions
Genoise Sponge
Preheat the oven to 180 degrees Centigrade.

Grease and flour an 9×13 inch sheet pan OR ceramic dish.

Separate the egg whites from the egg yolks.

Using a stand mixer or hand held beater, whisk the egg yolks, vanilla extract and sugar until smooth and double in volume.

Transfer the mixture to a separate bowl.

Sift the flour, baking powder and salt together. 

Fold this sifted mixture into the whipped egg yolk mixture. Be gentle and make sure you do not over mix. 

Clean and dry the stand mixer bowl OR a glass bowl. 

Pour a drop of vinegar into this bowl and spread it with a kitchen towel.

Using the whisk attachment, whisk the egg whites on high, until stiff peaks form and the mixture looks foamy. This will take about 4-5 minutes.

Gently fold in the egg whites into the egg yolk and flour mixture.

Pour the batter into prepared pan and bake for 18-20 minutes or till the top is golden.

Let cool completely before proceeding with the milk mixture.
Milk Mixture
Place the pistachios in a food processor.

Grind the pistachios on a medium speed for 5 minutes. It will resemble very thick peanut butter.

Using a silicone spatula, stir the paste and wipe down the paste from the processor back into the middle.

Process for another 5 minutes on medium speed.

Stir and wipe down and blend again for 5 minutes one last time.

The paste should be very smooth and the oils of the pistachios should have released. 

If you feel the paste can get smoother, continue processing in 2 minute intervals till the consistency is right.½

In a large bowl or jar, use a whisk to combine all the milk mixture ingredients together.

Add in the pistachio paste and whisk thoroughly till it is a homogenous mixture.

Refrigerate until ready to use.
Assembly
Using a skewer or a fork, poke (a million!) holes into the top of the cake.

Set aside half a cup of milk mixture.

Gently pour a part the remaining milk mixture on top of the cake. 

Make sure you don't miss the corners of the cake.

Wait for the surface to absorb it briefly.

Once it looks a bit dry (2 minutes), pour a little more of the milk mixture.

Continue this process for the remaining milk mixture.

Refrigerate covered for at least 2 hours. 

Check if the milk has been absorbed completely. 

If it has, you will be able to see the cake surface. Pour half of the milk mixture that was set aside.

If it has not been absorbed completely, you will see the liquid on the surface. DO NOT pour any additional milk mixture.

Refrigerate the covered cake overnight OR at least 10 hours.
To Serve
Whip the heavy cream and sugar in a clean, dry bowl till stiff peaks form. 

Be careful not to over beat because the cream will curdle.

Using a silicone spatula, spread the whipped cream on surface making sure it is smooth and even on all sides.

Sprinkle powdered pistachios generously all over the cake.

Cut the cake and gently transfer to serving bowls.

Divide and pour the remaining milk mixture into the bowls.
Notes
I piped the whipping cream using a pastry bag an open star tip nozzle for a good finish. This is completely optional.
If you're halving the recipe, you must use 3 eggs. The remaining ingredients can be halved.
The amount of milk the cake absorbs depends completely on the baking pan the cake is made in. When I used a rectangular one, it absorbed better in comparison to the cake made using halved ingredients recipe in a square pan.
If the milk does not absorb, it will be difficult to spread the whipping cream on top.
Have a good food day.