Nishana is one of the many wonderful people I have had the pleasure of meeting after being married. Our husbands are technically uncle and nephew in relation but only a few years apart in age. We all spoke together on a conference call after our engagement when they were expecting their first child. I visited her home in Kerala after she had her baby boy and they visited us in Abu Dhabi when they were flying back to United Kingdom. That was the beginning of what was an innumerable number of hours spent on the telephone. A decade later, we have shared recipes and presents, pregnancy and labor stories, and countless laughs. The number of times we have met in person can actually be counted on one hand. Ever since we've both had children, our chats have dwindled. Yet, our conversations, filled with her warmth and quiet laughter, flow effortlessly even when we haven't spoken for months. When we do talk, it always ends with inviting each other to holiday at their part of the world. We did so late last year and that is when she made this incredible Chicken Fry.
Nishana puts together meals so efficiently and makes it look effortless. I had heard about the magic in her fingers from my mother in law. To date, she narrates how on their trip to Aberdeen prior to our marriage, for tea Nishana made Vadas laced with peppercorns that perfectly slid into the oil from her hands and the most delectable Coriander and Coconut Chutney. I got to see this in person when we visited the in Aberdeen right after her little one had turned one. We first met in London where we stayed a couple of days. Crepes with lemon juice at Green Park, pinching boots with and without heels, an Aero birthday cake in the parking lot of Asda and the most eventful trip to Harrods doorstep is one of the fondest memories I hold close. We flew back with them to Aberdeen where we bonded over Fish & Chips and gravy, her lush pancakes paired with strawberries (they weren't in season and unbelievably sweet) and her incredible Spaghetti Bolognese. During the day when our uncle (sorry Chickoo Mama) was at work, the three of us and her darling little boy would board the bus and she would take us around the city. On our last day, I remember eating lunch at a Burger King near Aberdeen beach and feeling a twinge of sadness, wishing we lived closer.
Last year, we met after seven years. They've moved to Wokingham now. She hadn't met Ali and I was meeting her adorable daughter (who calls herself Nai Nai ) for the first time . After all these years, getting to spend time with them was what I was looking forward to the most. The children hadn't met before as well and they connected instantly as children would. The day we arrived we tucked into plates of steaming Chicken Biriyani and this unbelievable Chicken Fry. I say unbelievable because we were all raving about this dish at the table. My little one, who calls out on food being too spicy only if he doesn't like it, helped himself to more than what he normally would. I had watched her make it after we had arrived that morning. In all probability, you already have these spices in your pantry now. All you need to learn is a few tweaks n technique.
Don't be dissuaded by the color. Nishana uses Kashmiri chilli powder which renders scarlet notes and is subdued in heat. She roasts a few tablespoons full of it alongside other spices in dry heat for less than a minute. A few shallots are tossed in a grinder and she blends it all together with garlic pods and fresh ginger. Ironically, I'm always running a little low on ginger garlic paste so I grind and stock them fresh especially for this recipe.
The marinade should be a bit on the drier side. A distinct feature of a good Kerala Chicken fry is the presence of Podi. It can be translated to powder or dust, but that cannot describe the flavor these bits hold. It's the part of marinade that separates from the meat in the hot oil which then fries and collects at the bottom of the pan. It is gathered from the bottom with a slotted spoon and ceremoniously sprinkled on top of the fried chicken.
At our request, Nishana made this chicken fry one more time during our stay. Both these times, she marinated the chicken barely for half an hour. When I tried this back in Dubai, I felt the chicken didn't taste as good as hers (pretty sure that hen was raised on a farm). The next time I let it sit overnight in the refrigerator. This time the meat picked up more flavor and was much closer in taste her recipe.
Here's how the technique this recipe calls for is different. The marinated chicken is first cooked in dry heat again. No oil and absolutely no water. In about twenty minutes, the chicken will release its liquid and be partially cooked. That's when the frying part begins. You start pouring in spoons full of coconut oil. As it heats, it starts to mildly char the chicken and dry out the marinade bits floating around. A handful of curry leaves are added towards the end and when they're fried to a crisp the chicken fry is ready.
I would text Nishana every time I made her Chicken fry but no longer do. Given the frequency it's being made over here, I cannot possibly let her know every single time! When we parted, they promised to visit us at the end of this year. Given how the world is right now, nobody can tell when one can walk through the doors of an airport again. I'm grateful that our last vacation was to visit them and for the children to have met and bonded so quickly. We can't wait to welcome you in Dubai. Until then, we will have to make do recounting our wonderful time in Wokingham. And of course, your Chicken Fry.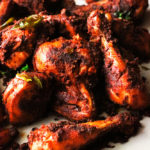 Print Recipe
Nishana's Chicken Fry
Kerala style spicy fried chicken, recipe by Nishana.
Ingredients
1

kg

Chicken

washed, cleaned and cut to pieces

3

tbsp

Kashmiri Chilli Powder

2

tsp

Turmeric Powder

3

tsp

Fennel powder

½

tsp

Garam Masala powder

2

pinches

Powdered Fenugreek seeds

1

pinch

Coriander powder

3

tsp

Ginger Garlic paste – 3 tsp

4

pieces

Peeled shallots

OR Onion – ¼ roughly chopped

Salt

to taste

1

handful

Curry leaves

Coconut Oil
Instructions
On a low flame, dry roast all the powders for half a minute just until the aroma is released.

In a grinder, blend the roasted powder, shallots OR onion, ginger garlic paste to a fine paste. It will be fairly thick.

Generously add salt to the marinade and mix well.

Cut tiny slits into the chicken meat to allow the marinade to penetrate.

In a glass bowl, place the chicken pieces and lightly salt the chicken pieces. Mix well.

Add the marinade and rub it into the chicken pieces thoroughly especially into the slits.

Marinate for minimum half an hour or overnight.

Heat a heavy bottomed sauce pan, and add the marinated chicken directly into the pan.

Without adding any liquid, let the chicken on a medium flame for 15-20 minutes.

After 20 minutes, the chicken would have released water.

Start adding coconut oil up to 9 Tablespoons in intervals to fry the chicken.

Add more oil if required.

The fried chicken will be fiery red in color and crisp.

Finish frying by adding the curry leaves a few minutes before you take the chicken off the heat.

Serve hot with Porotta, Neichor or Biriyani.
Have a good food day.