We're inching towards the middle of Ramadan and the temperature is rising steadily but with His Mercy, the humidity still hasn't set in yet. If you entertain quite a bit, this recipe would make a perfect dessert considering it is a no-bake one. This dessert is especially for those who hated their daily dose of milk. Chances are that a spoonful of malt powder went into the glass and was vigorously stirred and handed over in the hopes it would be go down without gagging revolts. Regardless this is almost effortless and something sweet to end a long day of fasting.
The new academic year in Kerala coincided with our summer holidays in Dubai. When I would go to stay at Verammas' (my maternal grandmother) during our summer break, one of the first things I would do having entered, even before I changed my clothes, was survey her pantry for treats I could dig into later. The morning hours would pass rather slowly considering our cousins went to school. Obviously, I would while away the time taking rounds in the kitchen nibbling on whatever is in line of sight every now and then. When I was younger, most of the cooking was still done over hearth. The wall running parallel to it had niches that made spices accessible. Sitting right next to them would be a bottle of Bournvita. I'm sure these bottles were depleted much quicker when I went to stay. I'd grab a spoon and slowly pace around that wall. There is a window of ten seconds to unscrew the lid, dig deep and scoop out as much as you can, hurriedly close it and dash before you were caught in action. And you had to run. That's not easy considering it is powder. And so, I would pop in the spoon and hold it between my lips and dash for the door. More often than not, Veramma would call out in mock reprimand and I could hear giggling right after.
The first time I bought malted chocolate powder was when Ali fell a bit ill. This fellow has his milk cold right out of the refrigerator and sans any flavoring. As with all illnesses, he would lose his appetite but he would still ask for milk. I would hesitate giving cold milk when he was sick which is when I bought Milo for the first time in my adult life. It is one of the things I'd rather not have sitting in my pantry considering the easy access to the tin with no adults to tell you off. Ali doesn't like milk being warmed and this was my way of cajoling him into a glass. Chocolate flavored milk has always been a treat for him and I had to explain to him that the milk had to be warmed for the chocolate to mix in well. Once he was feeling better and he switched back to the cold milk, if he sees the green tin he'd ask for a 'little powder in mine mouth.'
Are you familiar with the magic of Agar Agar? This vegetarian substitute for Gelatine can practically transform anything into a pudding with that and sweetened milk. It is bloomed in water for a while and then boiled on a high flame where it will melt completely. It is then sieved to separate stubborn lumps and is stirred into flavored and sweetened boiled milk. It will take trial and error to figure out exactly how much to add for the pudding to set. Too little and you'll have soup at hand and too much means it would set but there will be a smidgen of resistance when you spoon into it. Once you crack the code of ratio, let it come to the rescue every time you're planning a menu for last minute guests. For this recipe, I've put in a little more than I normally would so that it slices easily.
And if you don't fancy pretzel sticks you can use salted peanuts instead. Or even salted popcorn! Crush them a bit coarsely so you get a good bite and keep them salted to cut through the malty sweetness. And trust me, you're going to be asked for seconds.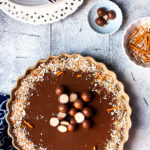 Print Recipe
Salty Malty Pudding
Ingredients
2

cups

Milk

8

tbsp

Chocolate malt powder

2

tbsp

Cocoa Powder

2

tbsp

Sugar

½

cup

Fresh OR Heavy cream

½

tsp

Salt flakes

¼

bunch

Agar Agar

Pretzel sticks

Malted chocolate spheres

to garnish (optional)
Instructions
Soak the Agar Agar strands in water that submerges it completely for at least 30 minutes.

In a saucepan, boil the milk, sugar and salt flakes till it is completely dissolved.

Take ¼ cup of boiling milk and briskly stir in the malt and cocoa powder making sure there are no lumps.

Pour this milk back to the saucepan and simmer the mixture.

Boil the soaked Agar Agar mixture till it melts completely and the water boils.

Using a sieve, pour the Agar Agar mixture into the simmering malted milk mixture and stir well.

Remove from heat and cool the mixtures for 5 minutes.

Slowly pour the cream into the milk and stir well.

Pour the pudding mixture into a glass or ceramic dish.

Once it has cooled down considerably, place it in the refrigerator to chill for at least 4 hours.

Right before serving, crush the pretzel sticks and sprinkle them on the perimeter of the pudding.

If you wish, you can garnish with malted chocolate spheres.
Have a good food day.