The memory of eating this pudding came suddenly one afternoon when I was preparing lunch for Ali. For some reason the smell of carrots cooking jolted my senses. The memory that came rushing was being 6 myself, sitting in the back of the car, peeping out of the window on a Friday morning while my father drove to Abu Dhabi. My mothers' eldest brother stayed and we would drive down to see them. I vividly remember how the highway was deserted and billboards would appear on the horizon about every five minutes and it would slowly grow in height as the car grew nearer. Some months, we would drive down every other weekend. The advertisements weren't changed too often back then and I would make a mental note of what was the last hoarding that stood at the outskirts of Abu Dhabi which meant the city wasn't too far away. This is a pudding my aunt used to make. I was never fond of Payasams. Ammayi was a pioneer and very experimental when it came to making non-traditional recipes including desserts. Jiggly Crème caramel, brightly colored Agar Jelly Pudding and cool glasses of Falooda were a few of the desserts she made 25 years ago. On that day in my kitchen, I wanted to try my hand at making this Pudding. I didn't even know what was in it and I called her older daughter inquiring about the sweet orange colored pulp with custard on top. She instantly knew I was talking about her Pumpkin and Carrot Pudding.
Possibly the best description about this pudding was by her youngest daughter – Is it that pudding that tastes amazing and you can't place exactly what it is you're tasting and you feel slightly cheated when you realize its Pumpkin? It is precisely just that. Ripe pumpkins are chopped and shredded alongside peeled carrots. Slow cooked on a low flame, Sugar is added once the vegetables are cooked through, just enough to sweeten the mixture. It is topped with a Vanilla flavoured custard and allowed to set in the refrigerator overnight. This is Ammayi's recipe and I've added a few tweaks of my own.
The shredded ingredients have to be cooked without any water. The Pumpkin will release a lot of water and my aunt assures that is enough to cook it and the carrots. This means it will require at least half an hour of slow cooking for it to cook completely and it will break down completely and look very mushy. Once it reaches this stage, then sugar is added in increments and the amount depends entirely on how sweet the vegetables are. During this lockdown phase, since I was having vegetables delivered home, once the pumpkin has green spots all over. I shared it my aunt and she said she's never seen that before. I didn't want to risk it and ordered another one. This time round it wasn't too ripe which meant it would require a little more sweetening.
While the Pumpkin and Carrot mixture cools, the Custard base can be made. I do love making custard from scratch. The only concern is it, even if it is mild, it will have an eggy flavor. For this recipe, you want the custard to taste sweet and very Vanilla. If you do have a pod of Vanilla or a bottle of pure extract that you're saving for special occasions, I urge you to use them for this recipe. Setting aside the coveted seed flecks, it deepens the flavor of the custard. It wouldn't be apparent and you can taste an ever so slight note of warm spice with each spoonful. Another addition I have made to the Custard base is a generous pinch of Turmeric for a brighter color. Considering the custard is pretty sweet, you wouldn't taste the difference.
So I have this weakness of assembling pudding in tea cups. I don't have to necessarily be shooting photographs or serving it to guests. It is a treat for myself that I enjoy so much. Taking one out of the refrigerator, picking up a dessert spoon, I'll stand by the kitchen window midday and slowly relish every bite. And a dainty tea cup just makes the experience just a little mmore indulgent.
Ideally my aunt recommends chilling this dessert overnight before serving which is perfect for the summer season. While testing the recipe, I'd like to add that it tastes wonderful when the custard is still warm which is why it would be perfect for colder weather and you can serve it immediately. Instead of layering, spoon a little more of the pumpkin and carrot mixture and pour a few tablespoons of warm custard. Considering Pumpkins are much riper around fall and winter, you wouldn't even need to sweeten it as much. Whatever the season, don't forget to add a generous sprinkle of flaky nuts.
Recipe by: Saibunnissa Abdul Latheef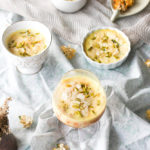 Print Recipe
Pumpkin and Carrot Pudding
Pumpkin and Carrot Pudding
Ingredients
4

cups

Rice pumpkin

grated

9

pieces

Carrots (medium sized)

peeled and grated

6

pieces

Cardamom pods

crushed to powder

8

tsp

Sugar

as needed

3

tsp

Ghee

1

pinch

Salt

5

pieces

Nuts

to sprinkle
Custard Base
3¾

tsp

Custard powder

3¾

tsp

Warm milk

1

tsp

Vanilla paste or extract

3

cups

Milk

at room temperature

5

tbsp

Sugar

1

pinch

Turmeric powder
Instructions
In a heavy bottomed saucepan, heat the ghee.

Once the ghee is warm, add the crushed cardamom and roast for ten seconds.

Add the grated pumpkin and carrot into the saucepan and cook on a slow flame with the lid on for 20-30 minutes. Keep checking and stirring in regular intervals to prevent burning.

The mixture should resemble pulp and it should have released water at this stage.

Increase the flame to medium-high and cook the mixture without the lid for 10 minutes or till the water is completely evaporated.

Start adding sugar a teaspoon at a time. Check the sweetness after adding 4 tsp and add sugar to taste. If your pumpkin isn't ripe enough, you will need more sugar.

Mix well till the sugar has melted and combined.

Take it off the flame and allow it to cool to room temperature.
Custard Base
In a small bowl, combine the custard powder and warm milk and mix thoroughly. There should be no lumps.

Add the Vanilla and mix it well.

In a heavy bottomed saucepan, pour milk and gently heat it on a low flame. Keep stirring in intervals so that it does not burn at the bottom.

Add sugar and keep stirring till it is completely melted, about 5 minutes.

Pour the custard powder mixture slowly into the saucepan while stirring well to make sure no lumps form.

Stir continuously for about 3 minutes or till the custard thick enough to coat the back of a spoon. It should be of pouring consistency.

Add the Turmeric powder and stir it to brighten the color of the custard.

Remove from heat and let it cool to room temperature.
To Assemble
In a glass dish, place a layer of the pumpkin-carrot mixture on the bottom.

Pour a little custard till the layer below is covered.

Add another layer of pumpkin carrot and gently press it into the custard as it is quite loose.

Pour custard just enough to cover it.

Repeat in layers till mixture is complete. The last layer should be custard and it should cover it completely.

Alternatively, you can layer in individual dessert bowls or cups. However, don't build more than two layers.

Sprinkle your choice of nuts right before serving. I used Almond Flakes and Pistachio slivers.
Have a good food day.