I know we're in the middle of summer in Dubai. Not exactly the time to be making a crumble. We were having cousins over for lunch about a month ago and I wanted to make dessert that wasn't too elaborate. I was making Biriyani that afternoon and needed this dessert to be out and ready before the Biriyani was sent for Dum in the oven. I was tempted to make a Mango fool with the last fruit of this season but I kept scouring for something new. That's when I found this recipe using Bananas. Of all the fruits, I had never read or made a Crumble with Bananas. The recipe seemed fairly simple and used just one skillet for the entire process. After a few tweaks and additions, I baked this Crumble. I can bank on an honest opinion when it comes to these folks. It received such praise that afternoon I knew this recipe needed to be shared. This Eid a plate of this dessert with citrusy caramel and a touch of chocolate is all you need, alongside a scoop of ice cream, when you settle into the couch for an afternoon of banter with Biriyani laden bellies.
The crumble itself is very plain in ingredients and technique. Cold cubes of butter are added to oatmeal, flour and sugar and worked with fingertips till it resembles breadcrumbs. This was the first step I started making changes. Can you spot an ingredient that wouldn't make it to a crumble?
The recipe I read by Bunny uses Pecans. I still haven't started doing the groceries myself and resorted to having Salted Peanuts delivered. They're not as fancy as Pecans for sure and that's why I decided I would make Praline with them. They're shaken in a sieve to remove the excess salt and then tossed in melted caramel and coated just enough to bind. Once they're completely cool, they're broken to bits and then powdered just enough to leave behind a few clumps. This Praline powder is added literally to ever other step of the recipe. It's added to the crumble topping, the caramel sauce for the bananas and definitely generously right before you serve it. Don't worry if you have extra. It stores very well in the refrigerator. You can spruce up a dessert that needs a bit of texture. Or over your morning Muesli. I highly recommend three spoons of it over a scoop of Vanilla ice cream.
How ripe your bananas are will determine the final texture of the banana filling. You want the peel to be yellow and ideally, spotless. I would suggest buying a banana bunch a few days before you plan on baking. For the filling, the bananas are tossed in a caramel concoction which I will tell you more about. The perfect bananas for this dessert should be ripe and firm to touch. Should the bananas be too ripe, they will start to disintegrate once they're mixed in the hot caramel. And you have to bear in mind that the crumble needs to be baked right after. If the bananas are too ripe, they will not hold shape once it is out of the oven. Honestly, it is not a bad thing and comes down to your textural preferences. And if it does become a bit too mushy, you can salvage it with a some Peanut Praline powder right before serving.
Unlike other fruit crumbles where the fruit would be cooked slightly in water, these bananas are tossed in a luscious caramel sauce. Brown sugar, a dash of cinnamon and sea salt melds in hot butter till warm and golden following which a surprise ingredient is added. Freshly squeezed orange juice. It sizzles and foams and gently thickens the sauce a little bit more. I tasted it (be very careful tasting hot caramel) after the juice was completely incorporated and it has the most pleasant tangy aftertaste. Honestly, I couldn't resist myself and added another sprinkle of Peanut Praline powder to sauce. Once the bananas are coated in caramel you need to take them off the heat before you add…
..Chocolate chips. This is me indulging a combination my husband loves. Bananas and chocolate. Whenever we have a barbeque session, he slits bananas in the middle but not right to the ends. He splits a Flake bar and puts in the banana center, wraps it all in aluminum foil and sets it on the flame for not more than ten minutes. The banana would have softened and the chocolate would have completely melted. It's a satisfyingly messy way to end the meal. In this crumble, I knew I had to add chocolate at some point. They would melt completely after time in the oven which is why I add them once the banana caramel has cooled down a bit. I add in a handful and gently stir it just enough to let it melt slightly in the residual heat.
I could finish those bananas straight off the pan. It just tastes that good and it is very hard to stop after a couple of spoons. Before there is barely any filling left to bake, it is transferred to a lightly greased oven dish and topped with cold crumble. It might be a bit tricky to separate the crumble if it was chilling for too long. You need to make sure it is evenly distributed over the bananas before you bake. I added another teaspoon or so of the powdered praline before I sent it off to the oven. And then you need to wait. Let it bake until you get whiffs of bananas drowning in caramel and browned butter in the kitchen air, about 23 minutes. The crumble would have turned golden and you'll find the caramel sauce bubbling slightly around the edges.
You have two options to choose from how to serve the crumble. Oh, a scoop of Praline ice cream is mandatory. You can wait till it has cooled completely and let it chill for a while. But not more than an hour. Or you can wait till the oven dish is warm and safe enough to touch from the oven. I'm always game for gooey warm desserts. My husband is team chill (literally). I have my share after it is baked and then let it cool in the refrigerator for the mister. Regardless, I'm pretty certain you'll be going back to it for one extra tiny serving.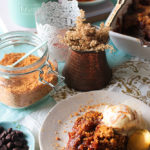 Print Recipe
Banana Crumble
Ingredients
Crushed Peanut Praline
150

g

Salted peanuts

¼

cup

Sugar
Crumble
½

cup

Oats

½

cup

Flour

¼

cup

Peanut praline powder

¼

cup

Light or dark brown sugar

½

tsp

Cinnamon

4

tbsp

Butter

Cold, cut in to cubes
Banana filling
6

pieces

Ripe bananas

¼

cup

Orange juice

2

tbsp

Butter

4

tsp

Peanut praline powder

1

tsp

Cinnamon

1

pinch

Salt

1

handful

Chocolate chips

1

scoop

Praline or Vanilla ice cream

to serve
Instructions
Using a sieve, tip the salted peanuts in and shake off the excess salt.

Heat a frying pan on low-medium flame.

Once the pan is hot, sprinkle sugar into the pan.

Once the sugar starts melting and becomes light golden, add the peanuts.

Stir continuously to make sure the sugar doesn't crystallize or form clumps and burn.

The sugar will melt and adhere completely to the peanuts.

Once it resembles brittle, take it off heat immediately.

Pulse the brittle in a food processor or a grinder for 6-8 seconds. The praline powder should have a few uncrushed clumps.

In a medium sized bowl, combine the dry ingredients of the crumble and stir it well.

Add the butter cubes and work the ingredients together with your fingers until they become crumbly.

Refrigerate the crumble topping while the banana filling is made.

Preheat oven to 180 degrees Celsius.

Heat a frying pan over low heat.

Melt 2 Tablespoons of butter.

Add the brown sugar and stir until it dissolves, about 3 minutes.

Stir in the cinnamon and salt.

Pour the orange juice carefully as it will sizzle up. Be careful of hot splatters.

Cook the mixture for a minute until it thickens slightly.

Add the cut banana chunks to the pan and stir them gently until they are well coated.

Add the Praline powder and give it one last stir.

Remove from heat immediately.

Grease an oven safe glass or ceramic dish lightly.

Stir the chocolate chips into the slightly cooled banana filling and spoon it into the prepared dish. 

Sprinkle the refrigerated crumble topping over the bananas evenly.

Place the dish into the oven and bake for 22 minutes or until the crumble topping is golden brown.

Serve warm with a scoop of Praline or Vanilla ice cream. 
Notes
Unused praline powder can be stored in an air tight container and refrigerated for three months.

You can choose to serve the crumble cold as well.

Once the crumble comes to room temperature after baking, refrigerate it for at least an hour.

If it is a bit difficult to spoon, warm it for not more than 15 seconds in the microwave.
Have a good food day.