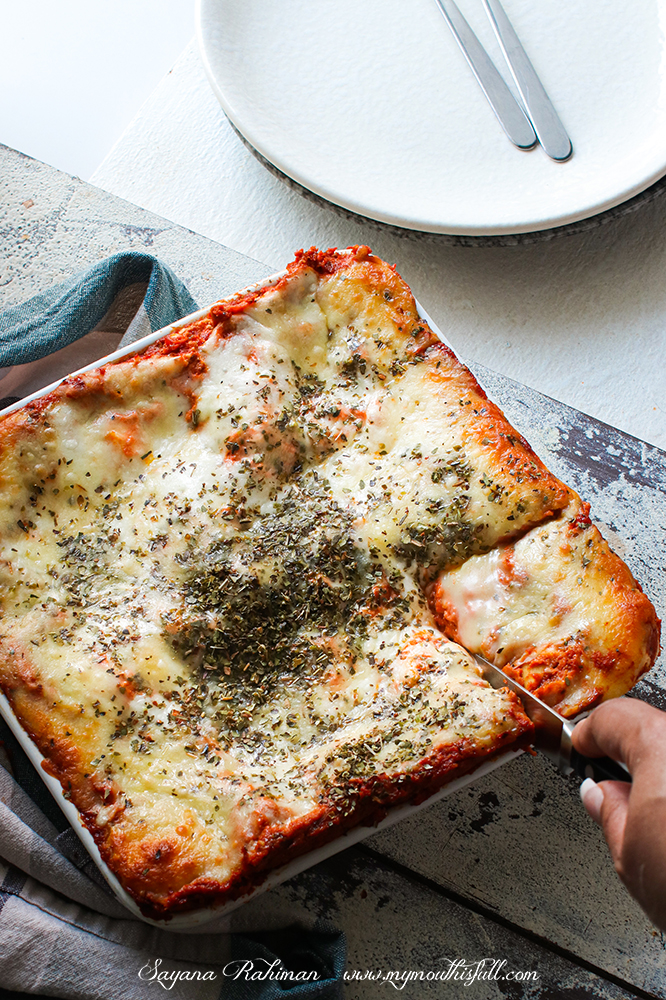 "What is Lasagna? Can you make it for me? It is Garfield's favorite!" I realized Ali has been having Lasagna all these years without knowing it is Lasagna. I made a Butter Chicken Lasagna about four years ago and it is one of the most loved recipes on my blog. That version is slightly tedious as I make Chicken Tikka and Butter chicken sauce from scratch before modifying it for layering Lasagna. When Ali started asking for Lasagna to be made more frequently I started making this Chicken Lasagna. The sauce can be store bought or with a few tweaks you can make it from scratch without too many hassles. This is one of my go to weekday dinner recipes. The cooking time is long but the preparation required is minimal. The sauce also has a secret ingredient which is a happy discovery and really gives the sauce depth. I usually make the sauce in the morning and then layer and bake it right before dinner. That way it comes piping hot with the most indulgent melted cheese layer which I suspect is the only reason why Ali enjoys this dinner so much.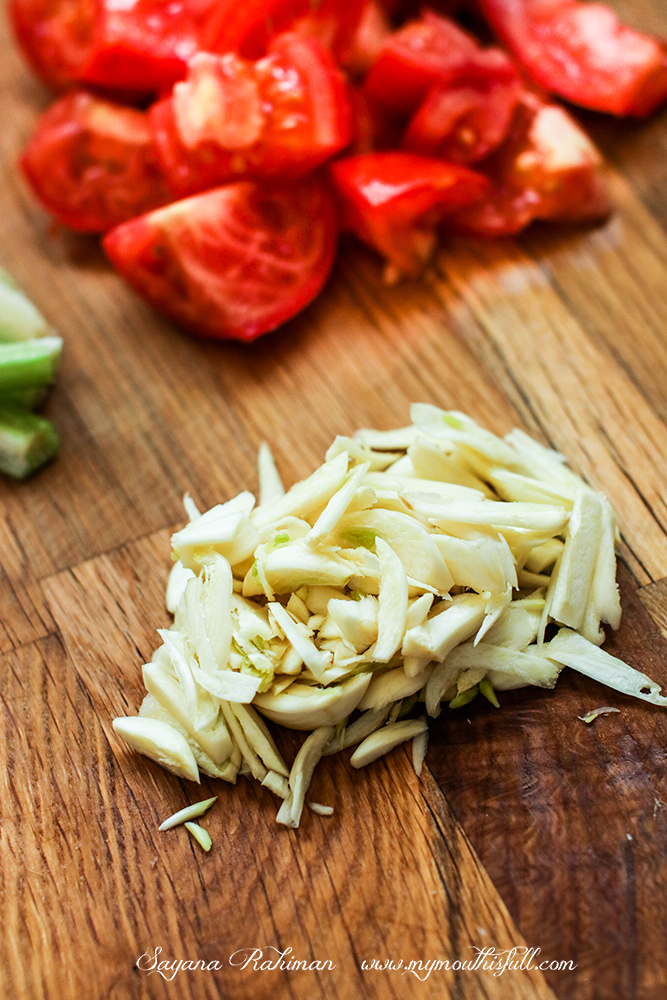 I did say the sauce can be made with minimal preparation. The majority of that involves prepping garlic cloves. This forms the foundation of both the sauce and flavoring the chicken. For the sake of writing a recipe, I have mentioned about 12 cloves but I almost never count them. I roughly peel about two whole Garlic heads and depending on the size of the cloves, I use as much as I need. Since the sauce is blended in a later stage I like to slice the cloves thinly instead of mincing them. This recipe uses chicken breast and as there is no marination involved, I have found garlic is the best ingredient to impart flavor. That along with chili flakes depending on your heat level seasons the chicken cubes just right.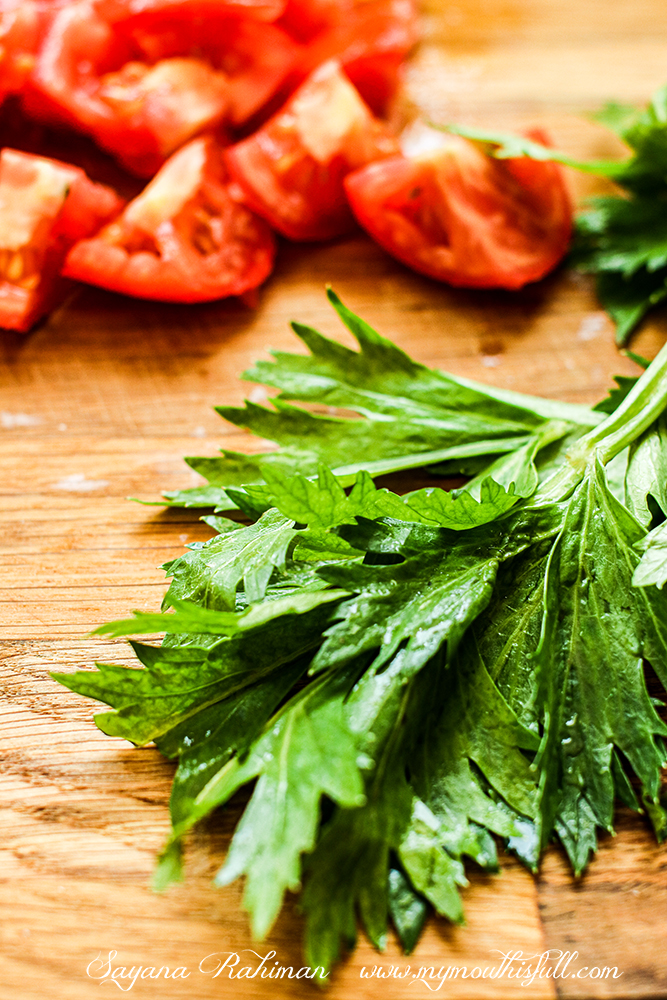 Here is my secret ingredient to a great sauce from scratch. It is Celery leaves! I had ordered Celery from the supermarket to be delivered for this recipe and once they sent it with a huge head of leaves. When it comes to food waste, I really make the effort to keep it to the bare minimum in my kitchen. I had never bought stalks myself with leaves as green as these. That's when I had the idea to put them into the sauce. Funnily enough, I didn't think about trying them raw. Instead I chopped them up roughly and added it directly to the sauce. And I'm glad I did. The sauce had a kick of what I can best describe as a confluence of pink onion and pepper. It left the slightest sting like aftertaste you would associate with both of them.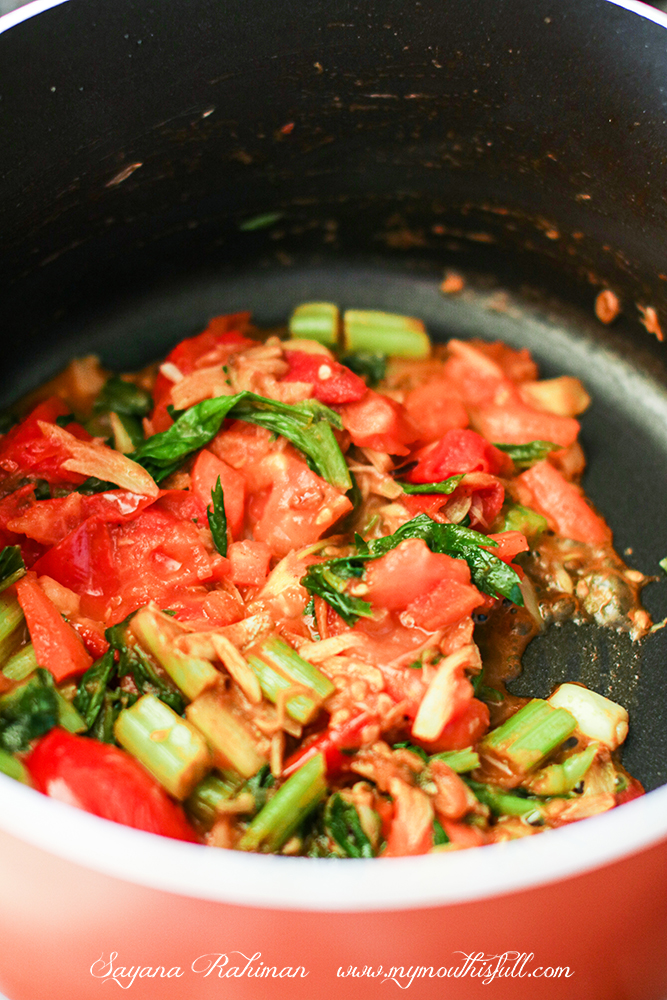 The base of this sauce is very simple. Garlic cloves and a mix of your favorite vegetables. No two sauces of mine will have the same set of vegetables. When I seem to have a stock of a few colored peppers and the odd carrots towards the end of the week, I know I can make this sauce.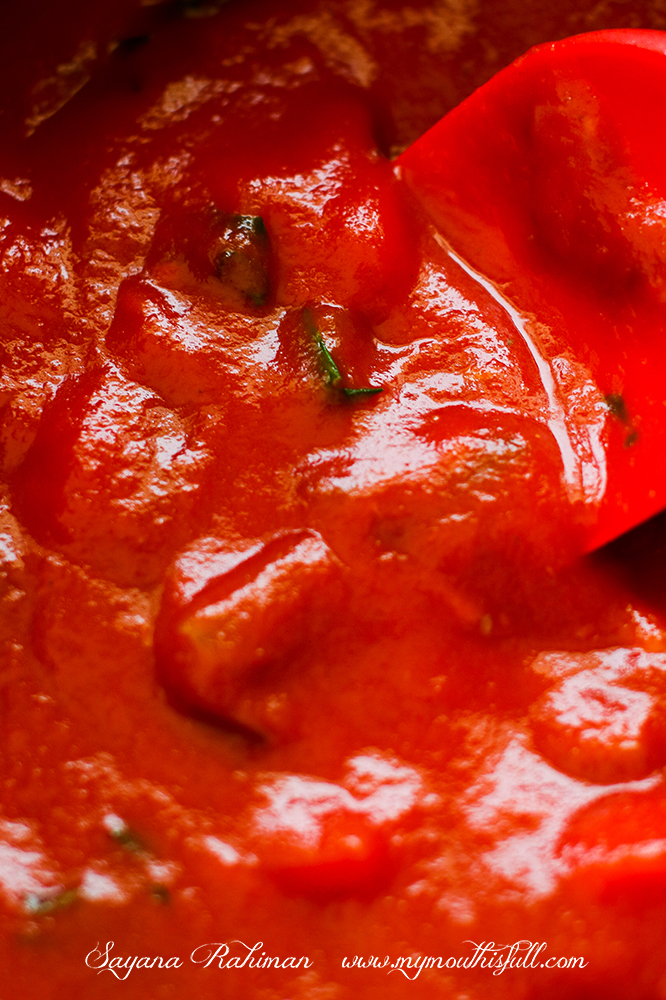 You need quite a bit of volume when it comes to sauce for layering Lasagna. That's why I use a combination of fresh tomatoes and store bought crushed tomatoes for this process. You could use only tomatoes but you will need to blanch before using them to make sure the sauce is smoother. I take about four large tomatoes and let it cook alongside the cooked vegetables before adding the crushed tomatoes. The latter tastes more acidic which is why its imperative the sauce is simmered for at least half an hour. This mellows it down and the flavor of the vegetables and dried herbs comes through.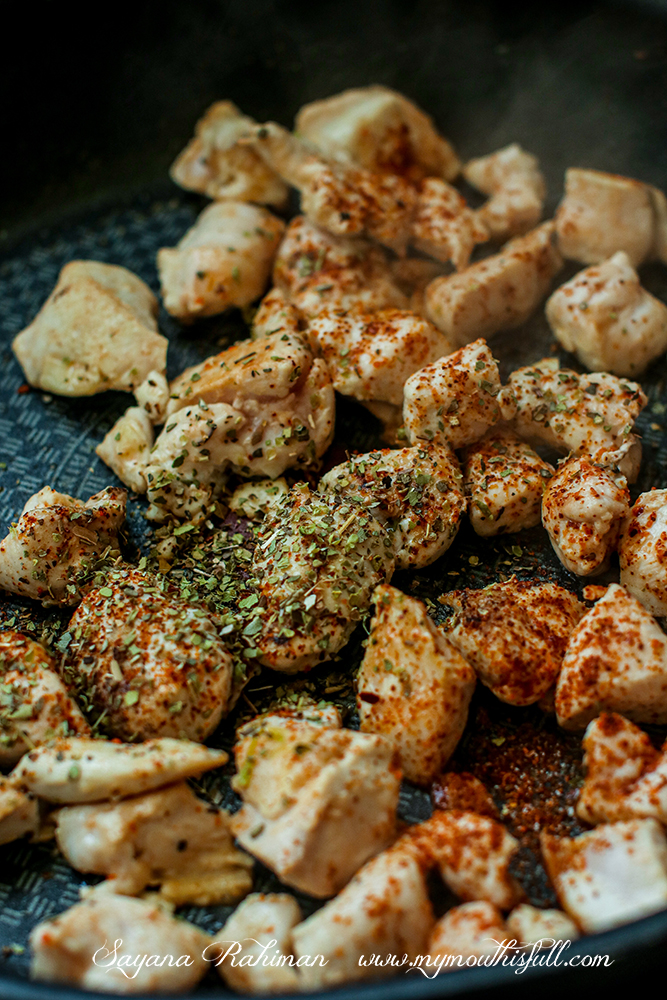 I usually prepare my chicken cubes while the sauce is on simmer. A little butter and a handful of slivered garlic is a match made in heaven. I let the chicken sear and cook through completely before adding it to the sauce. It releases water and it is important to let the chicken cook in it for great flavor. For an extra kick, I add a generous teaspoon of red chili flakes towards the end of the cooking time.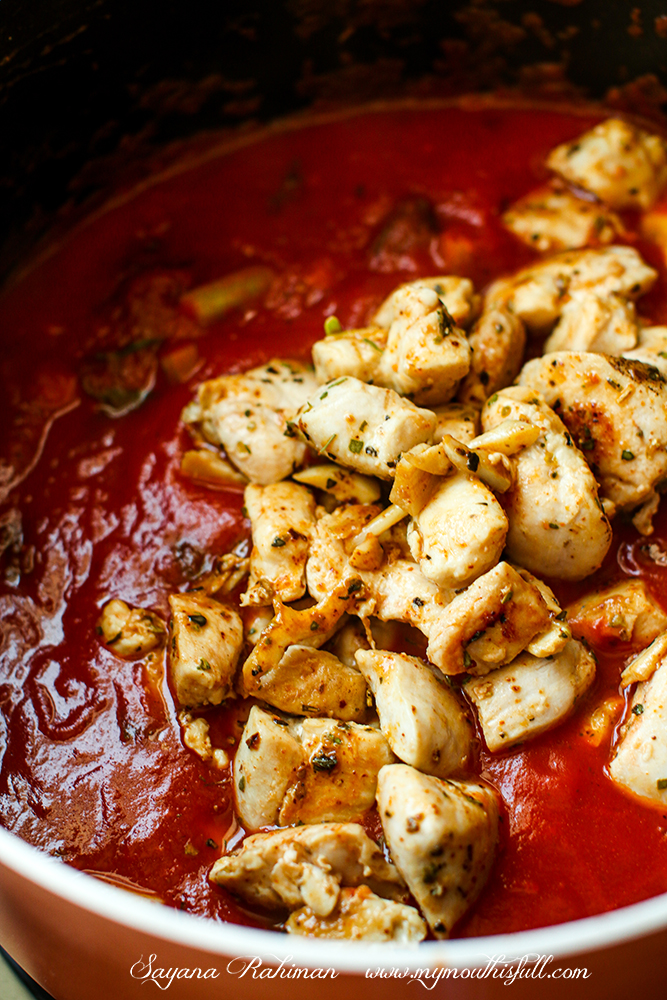 Once the chicken is tipped into the sauce, you leave it to simmer for another 15-20 minutes. Once the sauce is ready, it needs to be blended. I like to use my hand held blender to minimize dirty dishes. I immerse my blender directly into the saucepan taking care to not let the blades hit and potentially scratch the bottom of the saucepan. You will notice the sauce takes on an orange tinge the more its blended. I like to do anywhere between 8 to 10 pulses. You want the chicken cubes and vegetable chunks to be minced and combine directly into the sauce. The texture is still quite thick and it will be dotted with the dried herbs.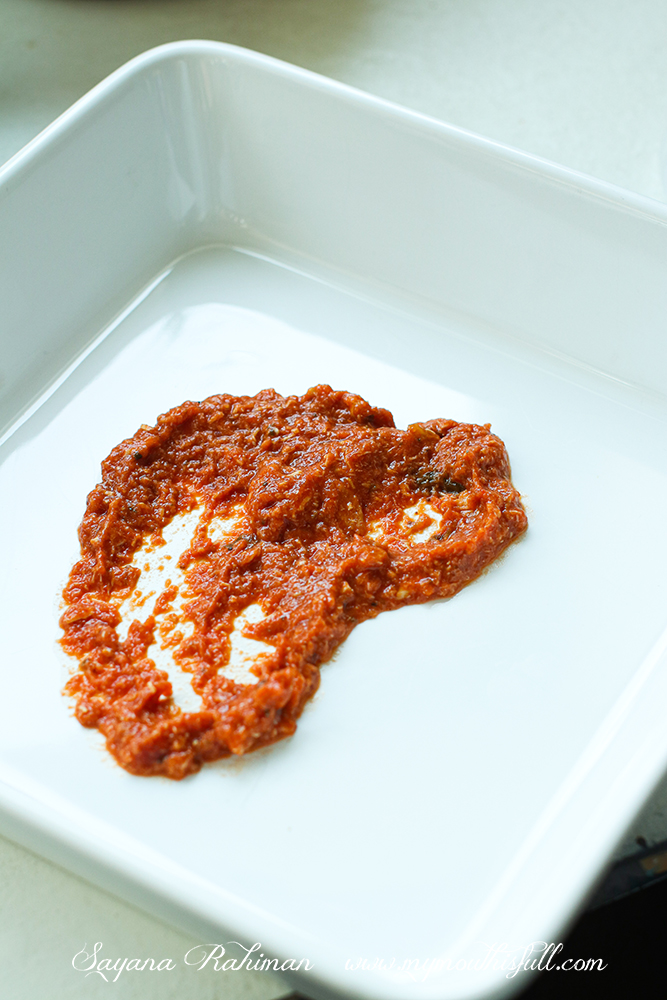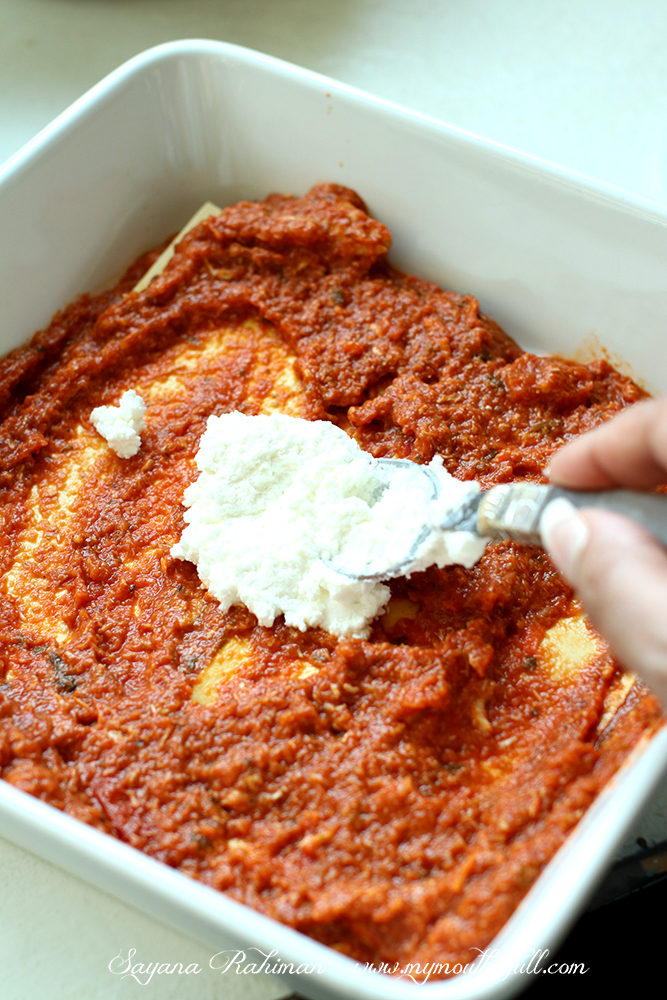 Most Lasagna recipes call for a Bechamel sauce while layering. I skip this step entirely by adding fresh ricotta instead. Ricotta is creamy yet clumpy so I like to whisk it using a spoon till it is smooth. While layering, I add about a teaspoon or two on top of the sauce and mix it directly into it. This yields the same richness and yet the prepare Lasagna tastes much lighter.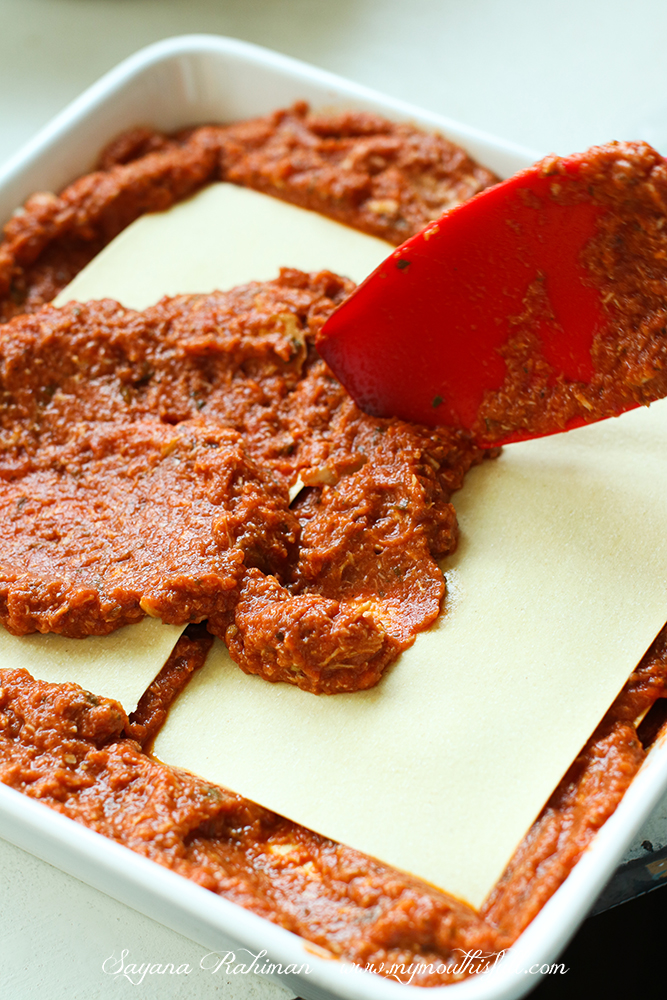 I've only bought Lasagna sheets that don't require cooking in advance. Somehow these are the only ones I have spotted at the store. You could use the ones that need to be boiled in advance if you're more comfortable with that. This step again saves time. The box says 20 minutes to cook which is why I cook the dish for about half an hour just to be on the safer side. I usually poke my knife in the center and it has always gone through to the bottom which shows the Lasagna sheets are cooked completely.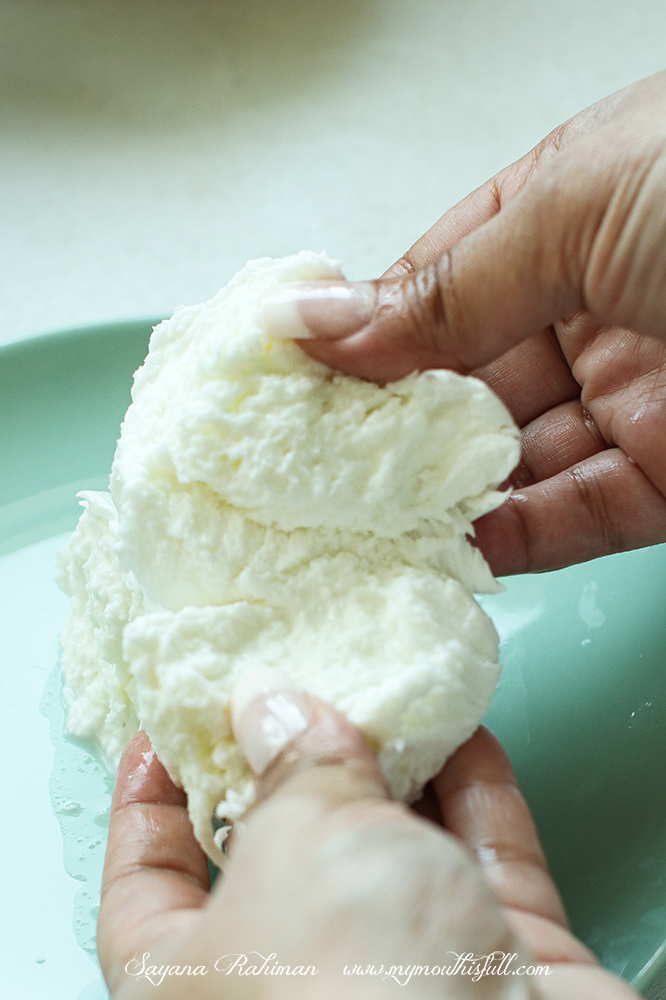 If you were to eat a Lasagna with your eyes, without a doubt, you'd start with the grilled cheese top. For the perfect cheese pull, I like to use a combination of Mozzarella. Fresh Mozzarella is one of my favorite ingredients. Ali and I can easily snack on it just like that. I usually do set a little aside for us to do just that. It's soaked in brine and if my sauce looks a bit thicker, I add this brine to loosen it up a bit. I tear the Mozzarella into smaller pieces by hand and dot the top saucy layer all over with the tinier chunks.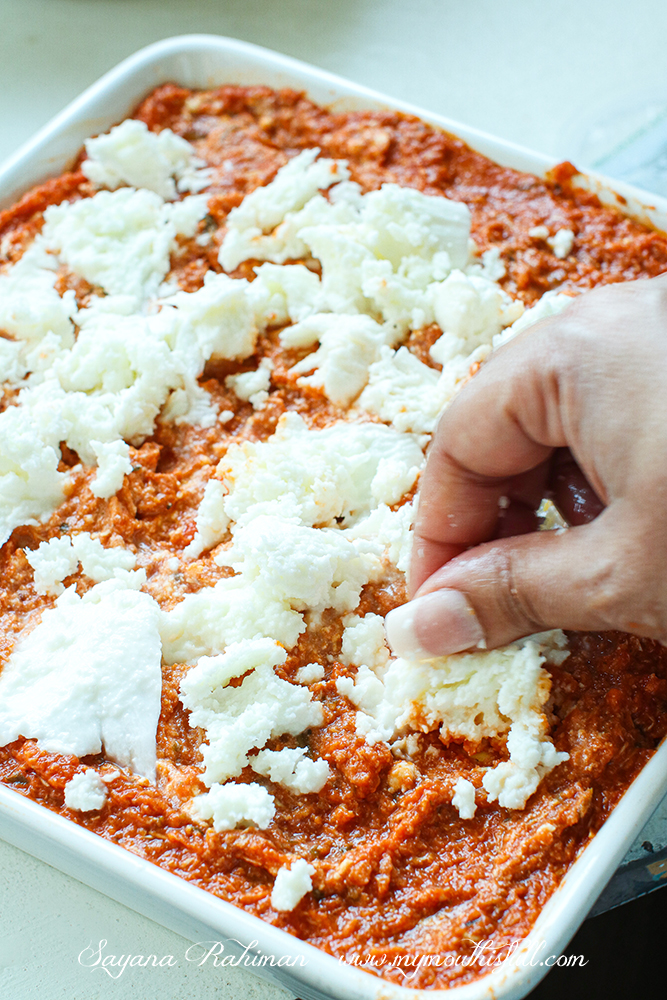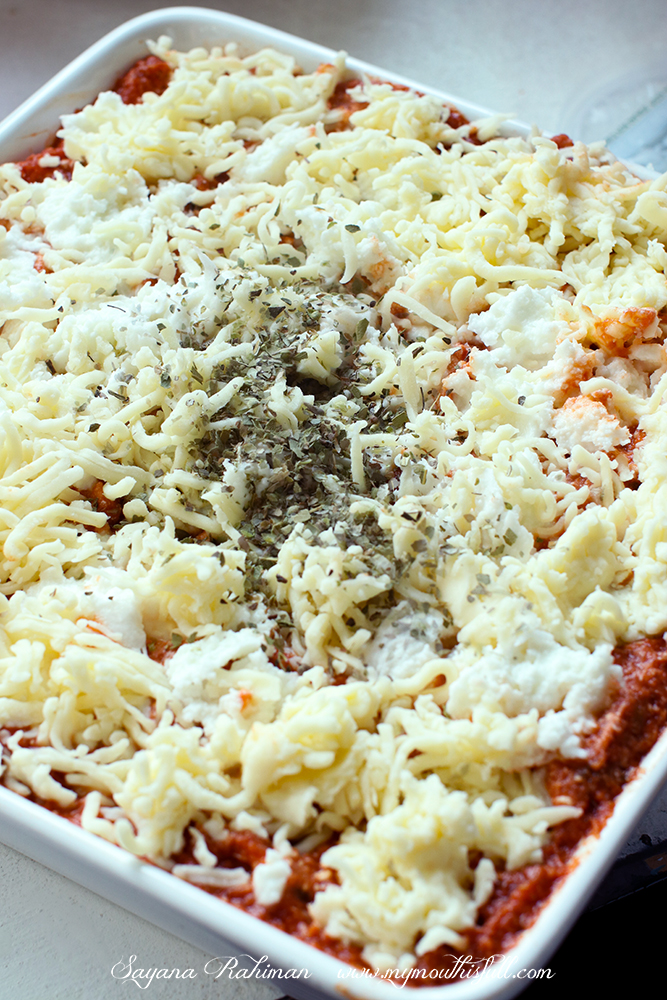 Given the fresh Mozzarella is hand torn, you will find a few saucy gaps after. To fill up these, I use shredded cheese. I fill those in wherever it is needed. While baking the cheeses melt together merging perfectly for that perfect cheese pull. Ali obviously likes to makes his way around the top. For a little kick of flavor, I like to sprinkle fried Oregano flakes over the cheese layer right before it hits the oven.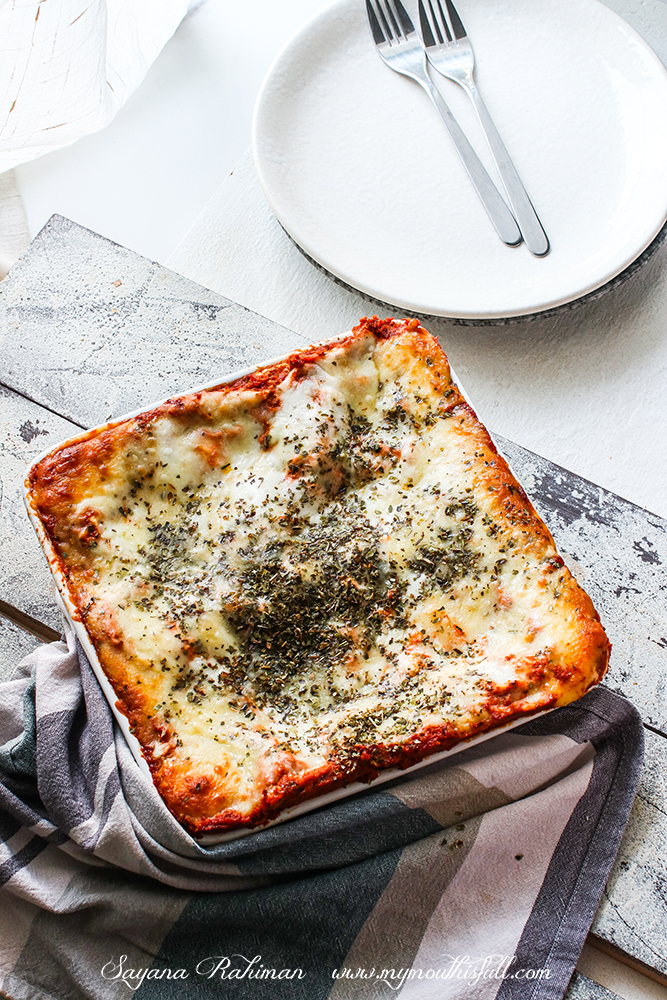 It takes about half an hour for the cheese to melt and slightly grill on the sides. My oven has a separate broiling option. Once it's done baking, I shift the dish to the top broiler section and allow the heat to grill the cheese. I don't lose sight of the top because it can go from bubbling perfection to charred and irreversible in a matter of seconds. Once the edges start turning golden, I normally take it out of the oven. This recipe is on the longer side in terms of preparation but it is still one of our weekday family favorites. There's usually enough leftover for the next day too and might I add, just like Biriyani, Lasagna does taste a little better the next day.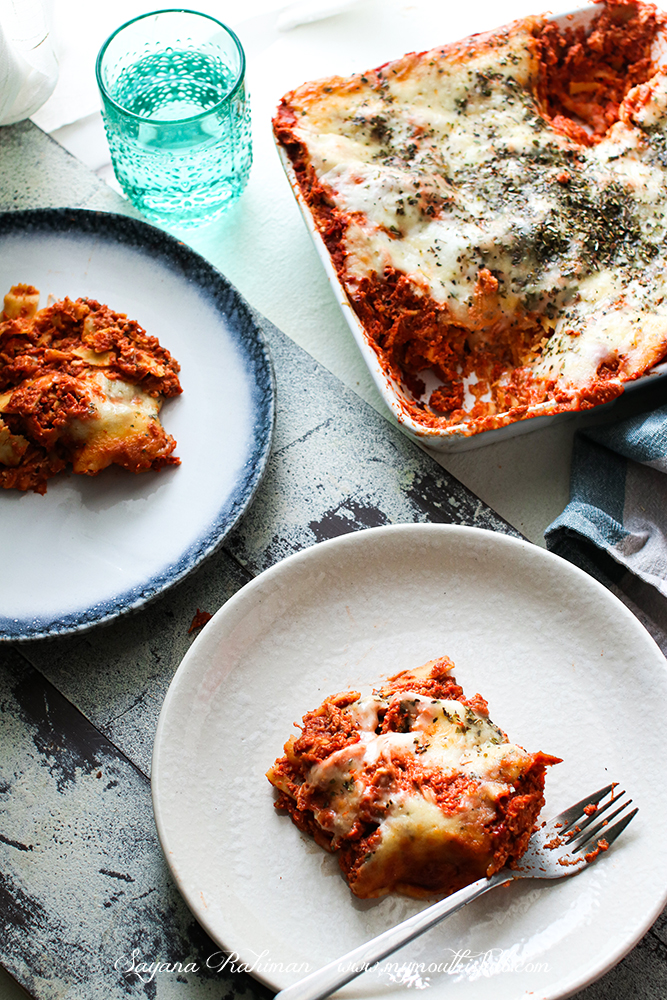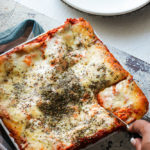 Print Recipe
Chicken Lasagna
Wholesome chicken lasagna, made from scratch.
Ingredients
12

cloves

Garlic

500

g

Chicken cubed

1

tsp

Chilli Flakes

3

Tbsp

Butter

Salt

to taste

4

Large tomatoes

1

Carrot

1

Red Capsicum

2

Celery stalks

1

handful

Celery Leaves

1

kg

Crushed Tomatoes

I use Pomi

1

tsp

Dried Basil

2

tsp

Dried Oregano

3

tsp

Chilli flakes

optional

250

g

Fresh Mozzarella cheese

½

cup

Shredded Mozzarella cheese

250

g

Ricotta

Ready to cook Lasagna sheets

as needed
Instructions
Peel the garlic cloves and slice thinly.

Heat a pan on medium heat and melt 1 tablespoon of butter.

Add a handful of sliced garlic cloves and sauté till wilted. Do not let it brown or burn.

Add chicken cubes and sauté.

Add chilli flakes and salt.

Stir often and let it cook through completely for 20-25 minutes.

Remove from heat.

Chop carrots, capsicum and celery into thick chunks.

Chop celery leaves roughly.

Cut tomatoes into large quarters.

In a saucepan, on medium heat melt 2 Tbsp of butter.

Once it browns slightly, add the remaining sliced garlic cloves.

Sauté and let it fry for about 3 minutes.

Add carrots, capsicum and celery chunks and sauté well for a couple of minutes.

Add the cut tomatoes and mix vegetables together well.

Cook for about 5 minutes till the tomatoes are slightly reduced.

Add cut celery leaves and mix well.

Pour the crushed tomatoes and mix well.

Add the dried herbs.

Stir in regular intervals. Be careful as the sauce will sputter often.

Check for salt and add more if required.

If you prefer the sauce to be spicy, add the optional chilli flakes.

Turn down the heat to low and let the sauce cook for about 30 minutes.

The sauce would have reduced and thickened slightly.

Add cooked chicken, stir well and cook for a further 15 minutes.

Once the sauce is ready, take it off heat and let it cool slightly.

Blend the sauce. You could use a handheld blender. If you're using a food processor or a mixie, blend the sauce in batches only using pulse mode. You don't want the sauce to lose its thickness.

Blend till chicken is minced and mix the sauce well. The color of the sauce will lighten to an orange shade.

Preheat an oven to 180 degrees Centigrade.

Using a spoon, stir the ricotta well to remove any lumps.

In a square ceramic dish, spread a thin layer of sauce to cover the base.

Place lasagna sheets on the dish and cover it in sauce.

Take about 2 teaspoons of ricotta and stir directly into the tomato sauce. Make sure the sheets are covered with sauce.

Continue layering the lasagna sheets till it almost reaches the top of the pan in the same method and the ricotta is incorporated completely into the sauce. You might have some leftover sauce.

The last layer of lasagna sheets should be completely covered in sauce.

Roughly break the fresh mozzarella into big chunks.

Place the mozzarella chunks all over the sauce.

Fill the gaps using shredded mozzarella cheese so that the sauce is completely covered in it.

Sprinkle oregano flakes over the cheese.

Bake for 30-35 minutes till the cheese is completely melted.

For a toasted cheese finish, broil the surface for 2-3 minutes keeping a watchful eye or the cheese will burn.

Serve warm.
Notes
As long as the vegetables will soften once cooked, you can add whatever you like while preparing the sauce.
I almost always have extra sauce. It can be frozen for a month. Thaw it completely and reheat it when you want to use it.
If you cannot find celery leaves, saute 1 pink onion with the garlic cloves when making the sauce.
Have a good food day.