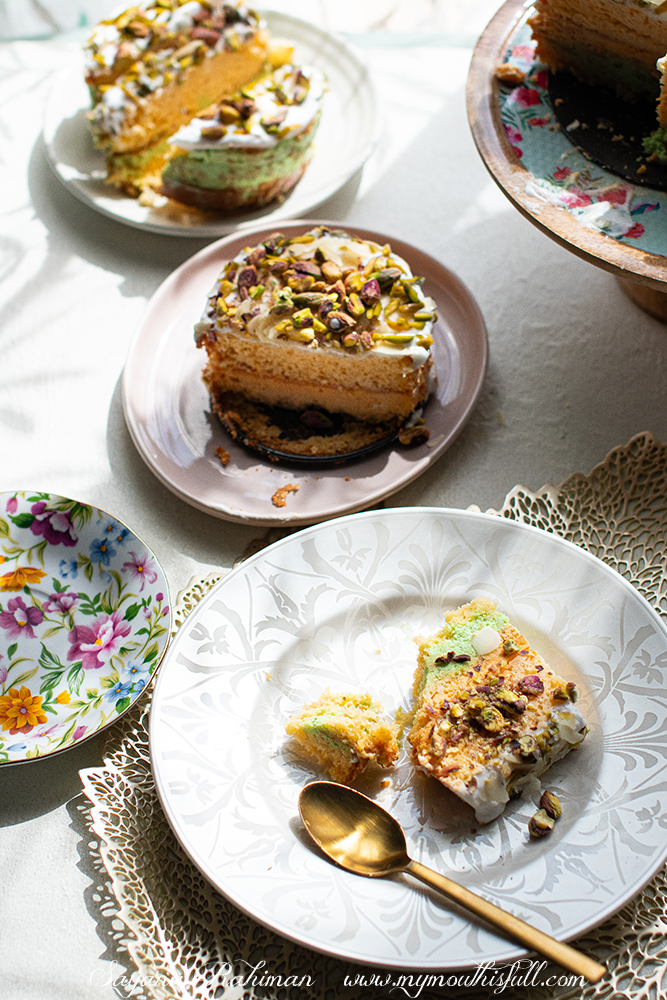 I vividly remember making this cake the very first time. I was making Mutton Biriyani for the very first time. This particular recipe was a Hyderabadi one where the meat was marinated overnight and was layered, raw, with cooked rice. It was a rather ambitious decision to attempt that especially when I was entertaining my cousins. Dessert for that night was this Cassata cake and I take full credit for coming up with this version. It was peak summer and I wanted to serve ice cream a bit creatively. I wish I had jotted down the thoughts that eventually led to baking this cake. Here's what I can vaguely recall. I wanted to serve an ice cream dessert. I thought of Cassata ice cream similar to the ones served back in Kerala. Those were typically layered with strawberry, pistachio and vanilla flavors. And I wanted to layer it with a cake, which of course, needed to be baked from scratch.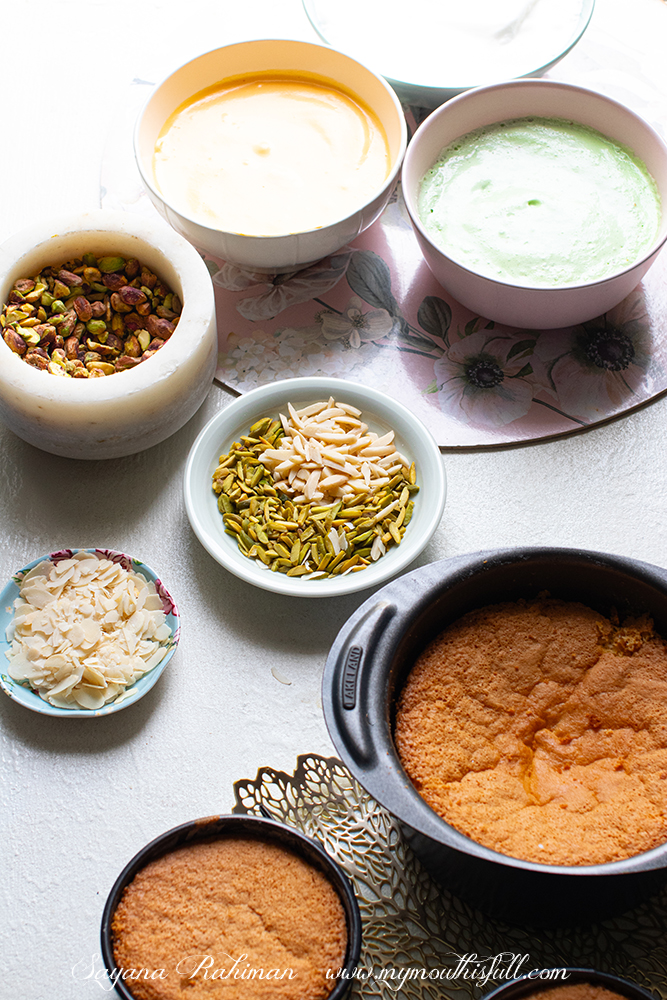 I looked into the origins of Cassata. A Sicilian dessert, it is a sponge cake sweetened with fruit juices and candied fruit. Not a layered ice cream treat for sure. That meant the only part Italian about my creation would be its name. I could however make the sponge cake from an Italian recipe. That's how my search led to Pan Di Spagna. A staple Italian sponge cake with a few ingredients and a little technique. No leavening agent like Baking powder is used in this recipe so the eggs have to be whipped throughly for a while and that gives this cake the height. Whipping it for close to 15 minutes also gives the a delicate and airy crumb that is perfect for soaking.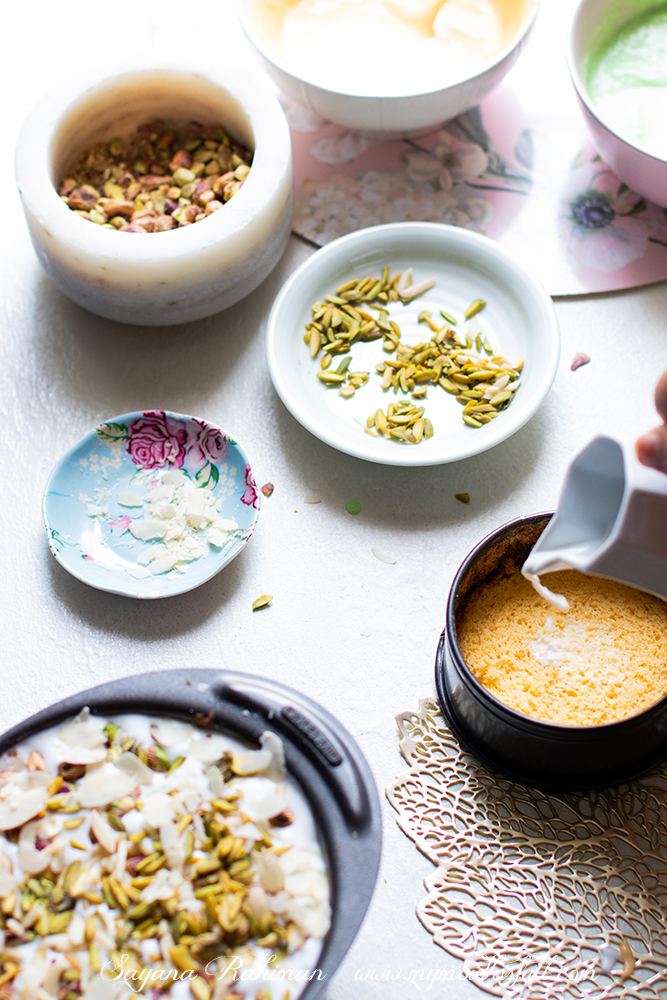 The biriyani came out under seasoned because I forgot to add salt to the water while boiling the rice. The Cassata cake was a smashing hit. The sponge cake when baked may seem a bit on the drier side but once it is layered between ice cream layers, it soaks up all the liquid and makes it perfect for freezing. It doesn't crumble or lose its texture once it is served and makes for a fun addition to the ice cream layers.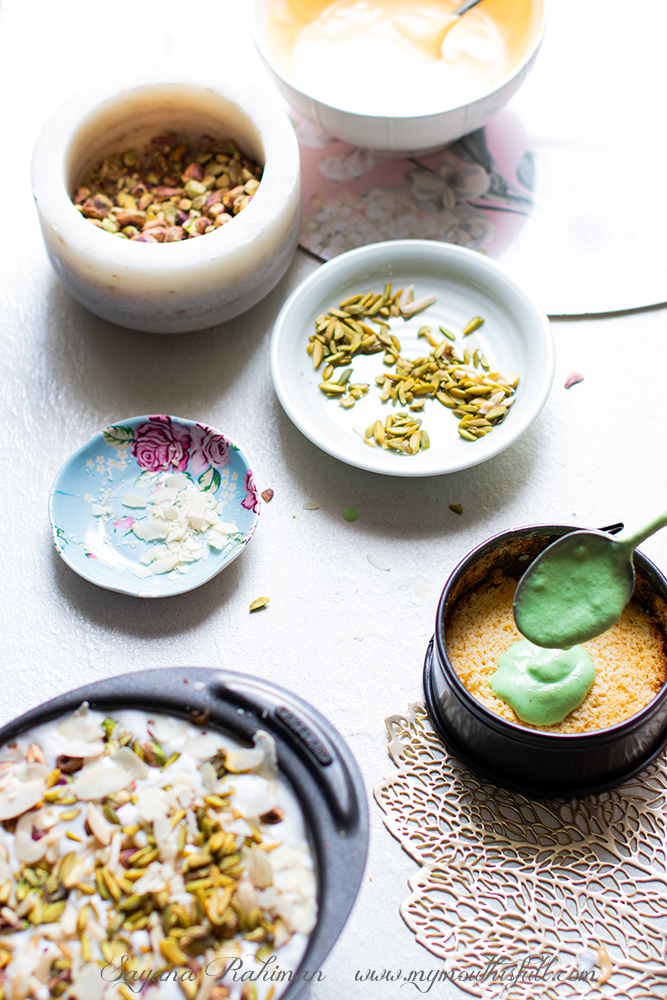 Let's talk ice cream flavors. I stick to Vanilla and Pistachio flavors and try to find the ones that don't taste too artificial. Which is why I didn't pick Strawberry. Visually, that would have looked great when layering but I find most strawberry ice creams sickly sweet. I was tempted to try a Raspberry sorbet while testing this recipe but realize it would be too pigmented in color and so I had to stick to pastels. This time I found a great Mango ice cream that tasted close to frozen mango pulp. You want to pick ice cream flavors that compliment each other because you would get a little bit of each one in every bite. You can always stick to just Vanilla if you aren't feeling that experimental. My combination of Mango, Pistachio and Vanilla were perfect visually and tasted lush alongside the sponge cake.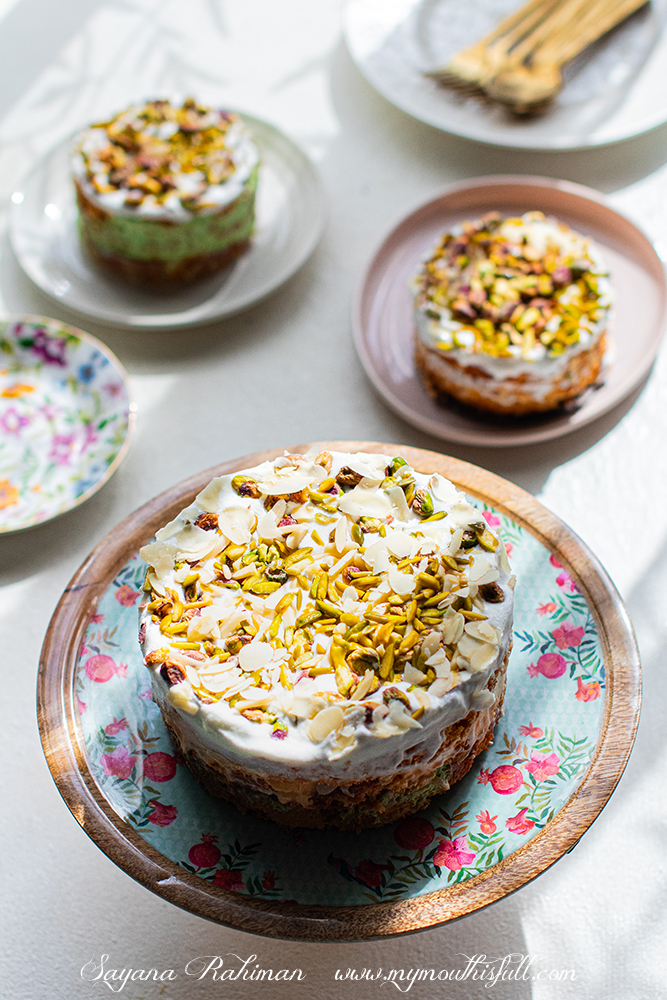 Something I never compromise when making desserts is finishing it with a (rather heavy handed) sprinkle of nuts. I added Pistachio slivers and Almond flakes. When I was browsing through the photos I realized I should have toasted the nuts slightly and that would have been a wonderful addition to the sweet cake.
One essential part of this recipe is to use a Springform pan or a baking pan with a loose bottom. You don't have to worry about it releasing from the pan at all. After freezing overnight, leave the pan on the countertop for five minutes and it will slide out smoothly without any hassle. Don't delay serving them once they are remolded as the ice cream would melt down.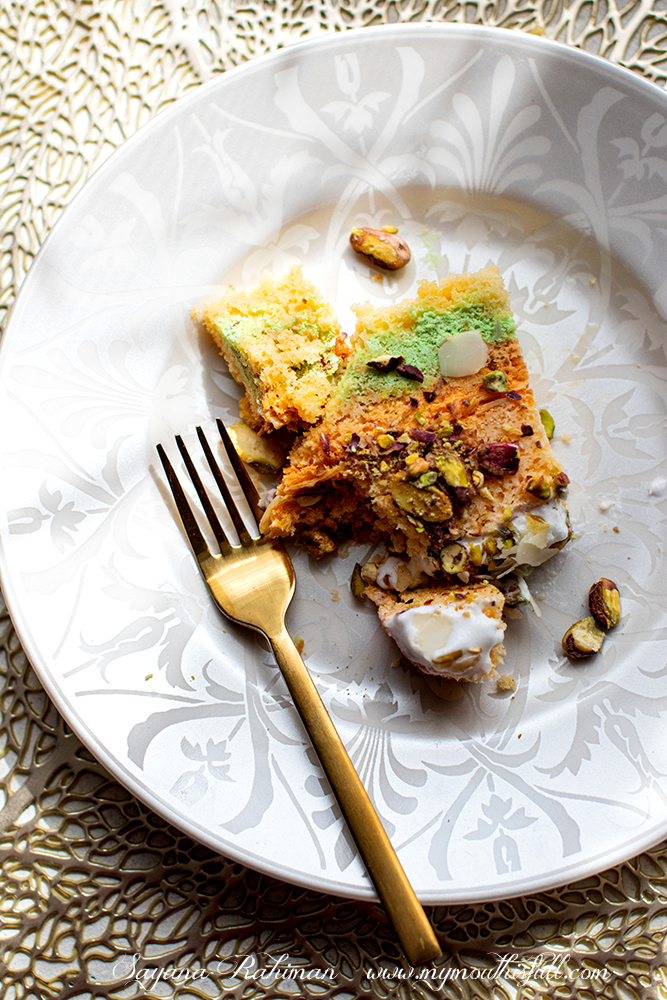 This year Eid is at my cousins' place. I plan on taking this cake over for *additional* dessert options. It does seem a lot with cake and multiple ice cream layers but trust me it is light and yet refreshing to indulge in with a belly full of Biriyani.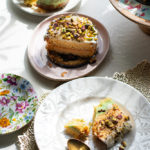 Print Recipe
Cassata Cake
Italian sponge cake layered with ice cream and nuts
Ingredients
Pan di Spagna – Italian Sponge Cake by Rosemary Molloy
3/4

cup

All Purpose Flour

3 3/4

tbsp

Corn Starch or Corn Flour

4

large

Eggs

room temperature

1

tsp

Vanilla extract
To layer
500

ml

Vanilla ice cream

melted

250

ml

Pistachio ice cream

melted

250

ml

Mango ice cream

melted

250

ml

Milk

warm

Nuts

(slightly toasted, optional)
Instructions
SPONGE CAKE
Pre-heat the oven to 160C.

Grease and flour an 8 inch (20 cm) Springform cake pan

In a medium bowl sift together the flour and corn starch. Set aside. 

In a large bowl or stand up mixer add the eggs and sugar and beat for 15 minutes on medium speed.

Add the vanilla and beat another 2 minutes.

Gently fold half the sifted flour into the beaten eggs and combine, then add the remaining flour and gently fold until smooth and completely combined. 

Pour into the prepared cake pan and bake for 30-35 minutes. The top should be golden brown.

Let cool in pan for 10 minutes then move to a wire rack to cool completely.
ASSEMBLY.
Cut the sponge cake into three even layers.

Place one sponge layer at the bottom of the cake pan.

Pour a few teaspoons of the milk directly on the sponge layer.

Spoon your choice of melted ice cream onto the sponge.

Gently place the second layer of cut sponge cake and press down lightly.

Pour a few teaspoons of the milk directly on the sponge layer.

Spoon your choice of melted ice cream onto the sponge.

Gently place the final layer of cut sponge cake and press down lightly.

Spoon your choice of melted ice cream onto the sponge. It should fill to the top of the cake pan.

Generously sprinkle with nuts.

10 minutes before serving, place the cake pan on the counter top.

Using gentle pressure, unmould the cake from the pan. The ice cream should have melted just enough and the cake should slide off the pan easily.

Use a cake knife or a very sharp knife to cut through the cake.

Place on serving plates and add a final sprinkle of nuts. Serve immediately.
Notes
Pan Di Spagna recipe has been adapted from this recipe posted by Rosemary Molloy on her blog.