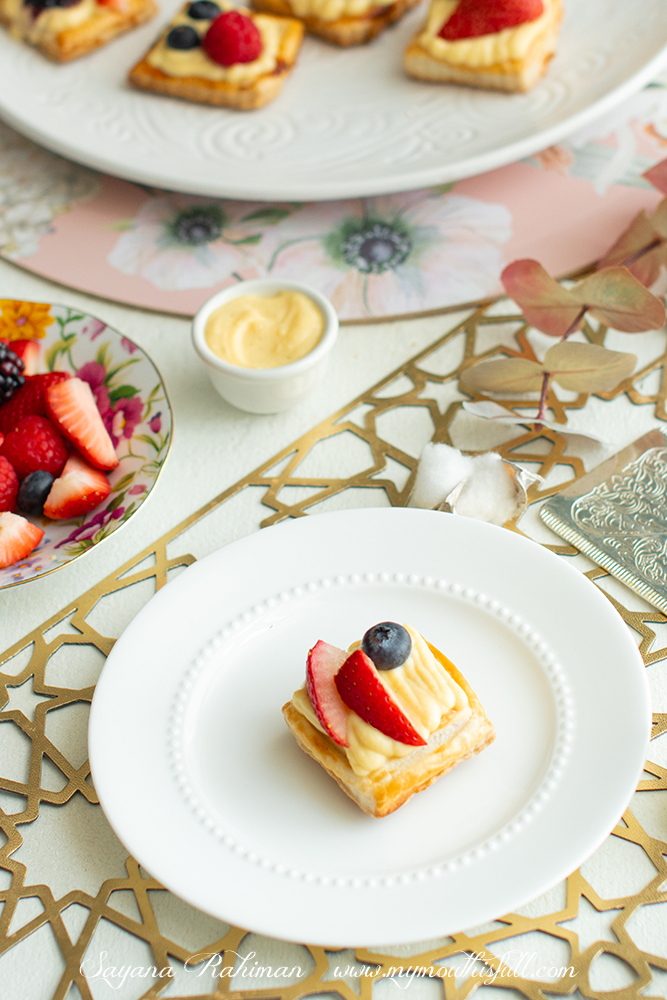 Fresh berries and custard, I feel, are a match made in heaven. In Dubai, my favorite bakery to find these are at the Japanned bakery Yamanote Atelier. I wanted to recreate these and bake a tinier version that would make a great option when entertaining. Considering dessert is the course I enjoy making (and eating) the most, I always like to have a couple of options for a party. These custard tartlets will not only look great on the table but also make an easy recipe for the summer. And is it just me or has the quality of Berries available here in Dubai become better over the years? Sure they're not very sweet but if you are careful you can find a good variety are sweeter than tart. Grab some puff pastry, pick your favorite berries and you're ready to make these beautiful tartlets.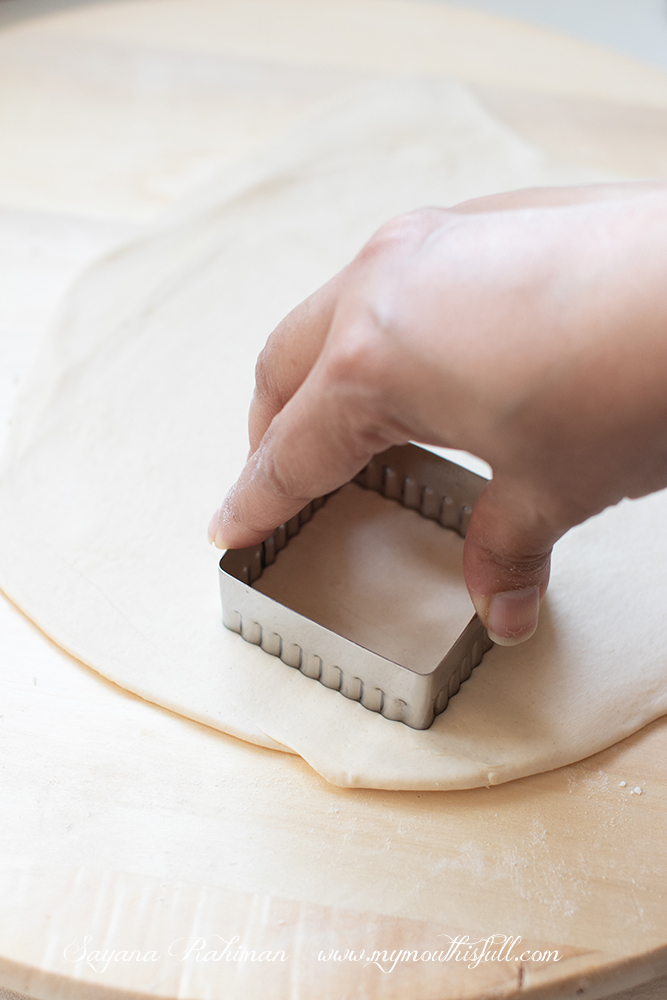 I had a pastry sheet in the freezer that I actually had bought to make this Chicken Pot Pie. A visit to Yamanote changed that and I felt I had to recreate my favorite pastry at home. It is much easier to use pastry squares instead of a whole sheet. However, if you do have some time on your hands and enjoy going a little step more, then get the pastry sheet. I used a fringed square cookie cutter to cut out small pastry squares.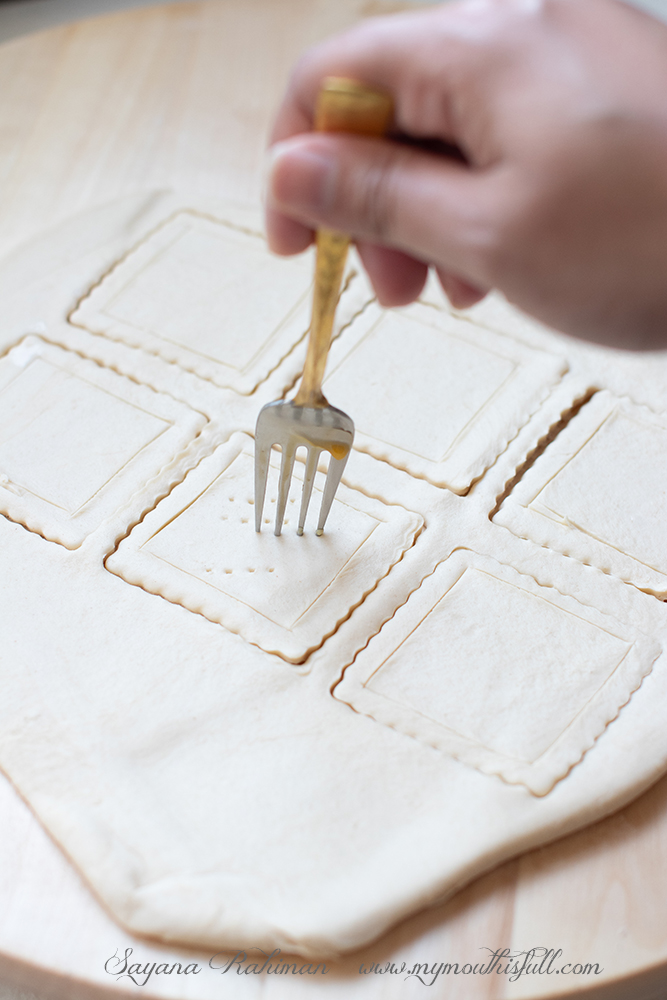 Making these squares is very easy. You want the outer edges to puff but the inner portion to be slightly deflated to hold the custard cream and berry toppings. I remember reading this little trick from a book Umma used to have by Tarla Dalal. In fact, my first baking experience is from her book. Sure the first few batches of cookies were baked to very crisp but it never demotivated me from baking. I vividly remember reading her recipe for Mushroom Vol Au Vent. In that she says to prick the centre of the pastry with a fork to prevent it from rising completely. I did exactly that while make these squares. I drew a smaller square inside each pastry and pricked the center with a fork.
Have you tried my Biscoff Banoffee Pots? It is quite a popular recipe on the blog from years ago. It is Vanilla custard layered with Bananas and Biscoff spread. Of course, you can make the custard element with powder but I made one from scratch using whole eggs and milk. Apart from the tempering step, it is easy to make and comes together quickly. For this recipe, I used the same custard recipe. Once cooled, spoon a little cream in the inner square and then bake the tarts.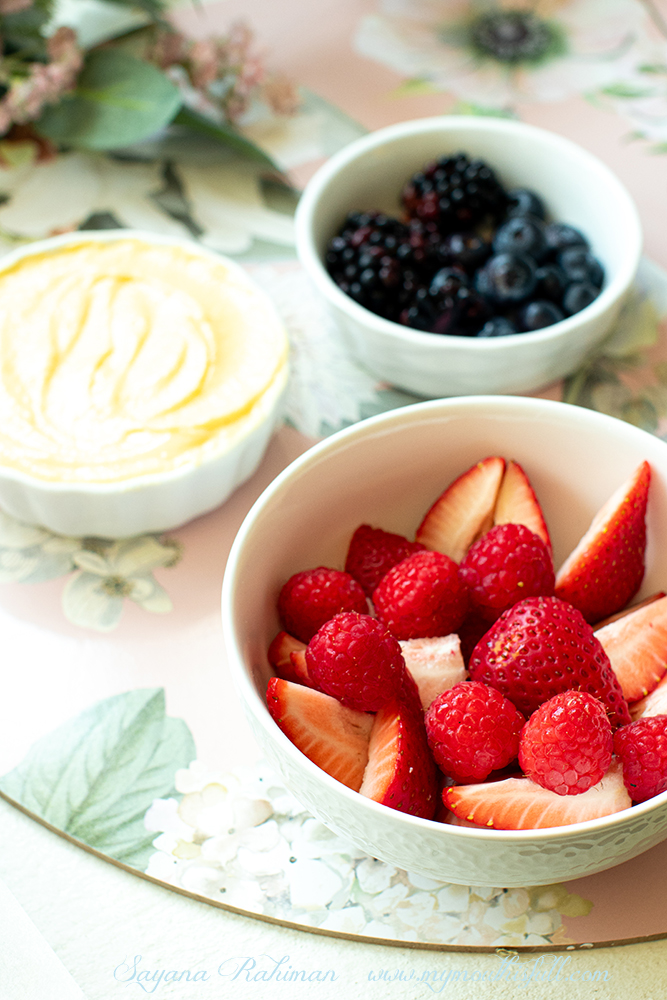 Ali loves blueberries. I prefer Strawberries. I was lucky to find a slightly sweeter batch for this recipe. I did a combination of Blackberries, blueberries, raspberries and strawberries for this recipe. Make sure they're washed and dried before you top them on the baked custard shells. Water will make the baked pastry soggy and you will miss out on that crunchy texture.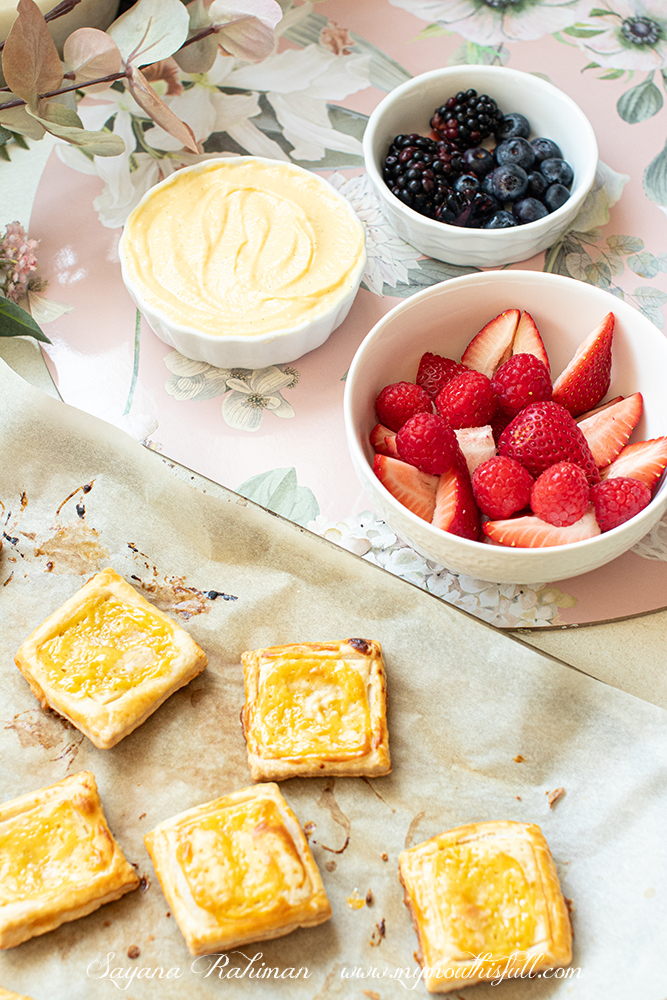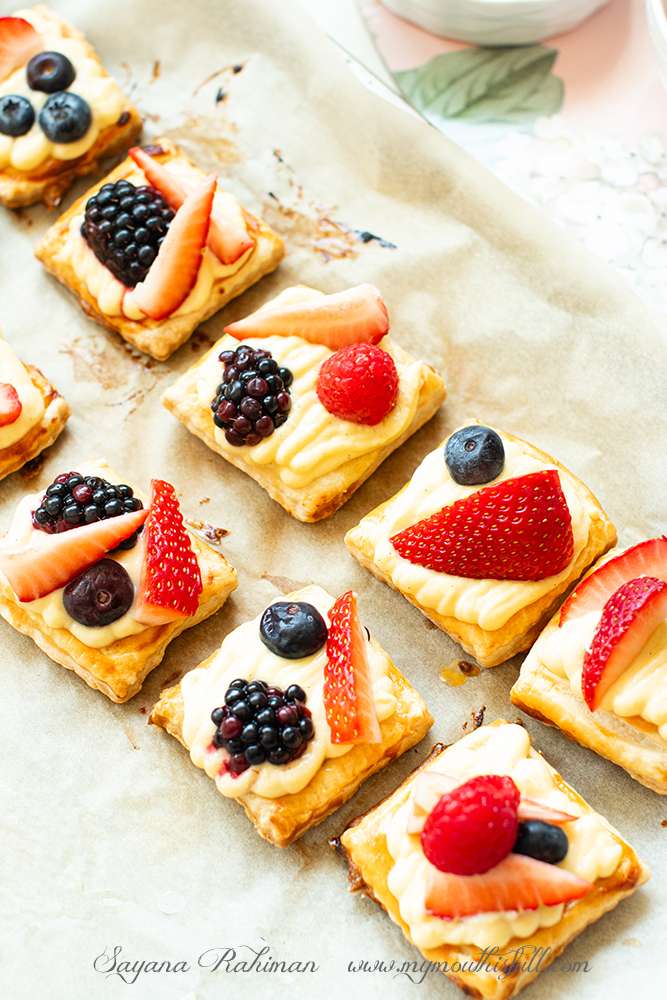 Can we agree that the outcome of these berries is rather gorgeous? I used a piping bag to neatly top the baked pastry tart and then topped them with the prepared berries. Unlike some of the desserts I share on the blog, these tarts are best eaten immediately. You want to serve them while the pastry is still crisp and the custard is chilled. Making these in advance might make the custard a bit runny and the pastry shell will definitely become limp and lose its shape. Make the custard a day before and let it chill overnight. On the day, you can leave the puff pastry to thaw for half an hour. While it bakes, you can wash and prep your fruit and have the remaining Custard ready to pipe. Once they're out of the oven, you can let them cool a bit and then quickly pipe and top with fresh fruit. If you have little hands to help, this is a task they will enjoy. Have the piped tarts ready for them and they can create edible art. Nevethless, it is a fun yet simple dessert option especially for the summer.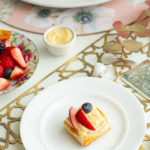 Print Recipe
Berry Custard Tarts
A simple finger dessert combining lush pastry cream and summer berries .
Ingredients
3

cups

Full Fat Milk

2

Eggs

1/2

cup

Sugar

1/4

cup

Cornstarch

2

TBSP

Butter

1

TBSP

Vanilla extract

1

Puff Pastry Square Packet

thawed

Choice of berries

washed and cut
Instructions
METHOD
Beat the eggs in a bowl with a fork to combine.

Mix sugar, cornstarch and salt in a medium saucepan.

Gradually pour in milk, while whisking, to make a smooth mixture.

Cook over medium heat, stirring almost constantly, until the mixture thickens and boils. Continue to cook and stir one minute.

Temper the beaten eggs by pouring several tablespoons of the hot mixture into the bowl with the eggs and whisking constantly.

Pour warmed egg mixture into the pan with the rest of the hot milk mixture.

Return to a slow boil, and cook one minute, stirring constantly.

Remove from heat and stir in butter and vanilla.

When the pan has cooled, place in the refrigerator to fully cool.
ASSEMBLY
Preheat oven to 200 degrees Celsius.

Place thawed puff pastry squares on a baking sheet.

Using a sharp knife, gently draw an inner square. Be careful not to cut through the pastry.

Using a fork, poke holes gently inside the smaller square.

Spoon a little custard cream only inside the inner square.

Bake in the oven for 15-20 minutes or until golden brown.

Allow the squares to cool slightly.

Fill a piping bag with the remaining custard cream and pipe the cream in in the inner square. Make sure you don't put too much or it will be messy to eat.

Top with prepared berries.
Notes
To make this dessert eggless, make Vanilla Custard using Custard powder and add an 2 tsps of Vanilla extract while making it.
This dessert is best eaten immediately to make sure the pastry remains crisp.